Do your own color analysis
DIY COLOR ANALYSIS BUNDLE
Discover your most flattering colors with a DIY Color Analysis color fan, companion course, digital color palettes plus 2 bonuses courses.
Order Today

You're about to discover:
Your most flattering colors!!
The color theory behind the Your Color Style system
How to quickly narrow down your color type choices from 12 to 4
The exact colors to use to do your own color draping
The complete color palettes for each color type
In depth videos that dive deep into each color type
Why certain colors look amazing on you and other colors feel blah.
The types of colors that make you shine.
Order the DIY Color Analysis Bundle
Here's How the
DIY Color Analysis Bundle Works

Your DIY Color Fan Ships To You
Once you submit your order, your special DIY Color Analysis color fan will ship to you. This fan will include all of the specific colors you need to do your own color drapings. It will also go hand in hand with the included companion course.

Access the Companion Course
While you wait for your color fan to arrive, you can access the companion course. This online course walks you a simple step-by-step process to learn your color type using your special DIY Color Analysis color fan. You'll learn the exact colors you should drape yourself in to learn your color type. No more guessing or confusion as to why you look good in a color but it doesn't seem to fit your undertones.

Confused Between 2 or 3 Color Types?
Once you've gone through the companion course, you should have a good idea of what your color type is. However, it is very common to feel stuck between 2 or 3 color types. Watch this replay of the webinar "Discover Your Best Colors in 30 Minutes". It will give you LOTS of shortcuts and tips to make that final decision... and finally know your most flattering colors.

All 12 Digital Color Palettes Included
Looking at the complete color palettes can help you understand your color type
Each color palette sells for $12.97 but you get access to all 12!
You'll find these inside the companion course.

Need More Information?
This course is VERY comprehensive and will walk you through the 3 step methodology of Your Color Style. This will give you further detail into each step of learning your colors and the different color types. This course is included with your bundle and available to you when you need it.

See Your Face In the YCS Color Wheels
The DIY ONLINE Color Analysis course is included with your order. This is a fun way to see yourself within the different colors of the color types. Learn how to place your photo inside the rings of the Your Color Style color wheels. Compare what you see with what you have already learned in the above courses.
What To Expect
> Your DIY Color Analysis color fan will ship to you.
> Receive immediate access to your 4 online courses.
> Instant access to your one-page digital color palettes.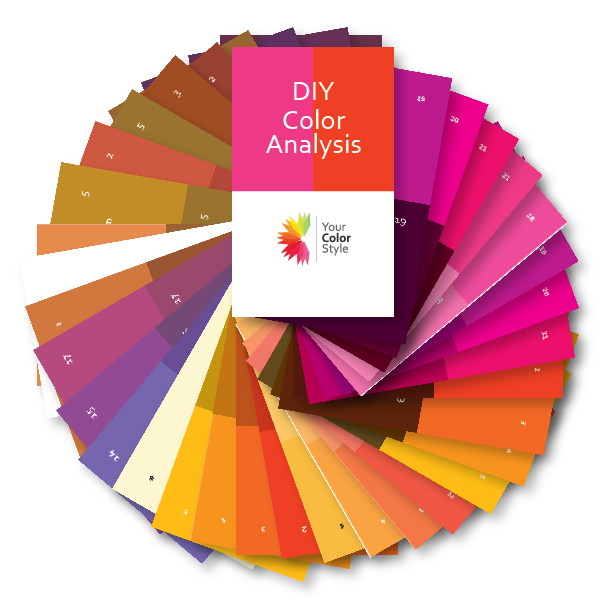 Jen Vax
Hi! I'm Jen Vax. I am so happy you are here. I am your behind-the-scenes instructor here to guide you to your most flattering colors through video lessons, color theory, photo examples and more.
Like you, I have felt frumpy and blah. I was constantly seeking my personal style and never really liking how I look.
But I've been through a journey of self discovery to grow into a person that is finally comfortable in her own skin (and confident in my style choices).
Today my mission is to help amazing women, like you, discover the creative playful fearless loving girl that is their true nature and create a signature style that expresses who they truly are. And this all starts with learning your colors!