Welcome to Your Color Style

Start Here
Hi there! I'm Jen Vax, founder of Your Color Style and your guide throughout your color journey.
You have likely come to Your Color Style because you're excited about learning your most flattering colors.
And you may have come to this page because you're not exactly sure where to start and what Your Color Style is all about.
There is a LOT of content available to you, which can be overwhelming. So, below, you will find just a few things you can explore to get you started.
If you have questions, please email my support team for assistance.
Take the Free Color Analysis Quiz
Ready to jump in?
If you are here to learn what your color type is, and you're ready to figure it out on your own, the best place to start is by taking the FREE Color Analysis Quiz.
The quiz will walk you through the 3 steps of the Your Color Style methodology, step-by-step, to guide you to your most flattering color palette.
When you enter your name and email below you will be redirected to the free quiz. You will also receive a Color Journey Map designed to help learn what to do based on where you are on your color journey. It's a great way to see many of the products, courses and services we offer that can help you.
If you're not ready to take the quiz yet, scroll down a little further to learn more about Your Color Style and Jen Vax.
Learn About Your Color Style
New here?
The video below will introduce you to the different color types and the 3 steps of the Your Color Style methodology. You'll learn the words and concepts that you'll see referred to throughout the blog, quiz, courses, videos, etc. You may even have a couple lightbulb moments about what types of colors flatter you!
You'll also discover that Your Color Style is not seasonal color analysis. You will not learn your color season here. Your Color Style is its own color analysis system with its own unique color palettes and color wheels.
Watch the video below and then scroll down a bit more to learn how and why Your Color Style came about and how it is different and better than Seasonal Color Analysis.
How is Your Color Style different?
As I mentioned above, Your Color Style is not seasonal color analysis. It is different.
When I first started doing online color analysis, I was offering seasonal color analysis. Mainly because it was the most well known color analysis system out there. It worked ok but it excluded a lot of people. I would get clients with grey hair or brown skin and clients that just didn't fit in the seasons.
I would get questions like "Am I a spring or an autumn?". When I inspected the color palettes, I discovered that there was not much difference between the color palettes but the way the seasons were described caused a lot of confusion. Plus, I didn't know how to handle the individuals that fell in between a season or really, not addressed at all.
So, using my fine arts background, I designed my own color palettes and system based on color theory. My concept is, the way you describe the colors that flatter you should be how you describe your coloring and tone. The colors you wear should be in harmony with your natural coloring.
So, I broke it down and made it as simple and flexible as possible. The Your Color Style color palettes are designed to be customizable so that you can wear the colors that you love to wear.
Your Color Style is inclusive. It is the right system for any skin color and hair color. We specialize in unique coloring and combinations.
I am going to walk you through our S.H.I.N.E. framework. This framework is your journey map. It will help you discover and customize a color palette that is uniquely you and then give you a foundation for learning how to pull flattering outfits together in your personal style and best colors. You are welcome to go at your own pace through your journey. 
S - 3 Steps to discovering your color type
In this first phase of your journey, we will be helping you learn your color type.  There are several ways to learn your color type, listed below. Once you learn your color type, you can move on to the next phase of your journey.
If you are feeling like you are in between light, medium or deep, or just need some clarity, you can ask questions about your coloring and tone in a Color Type Clarity Call within Style Masters. Please know that we will not be able to clarify undertones. Only questions around why some colors may not look good, or what depth you should choose, or you feel like you're in between bright and soft. 
H - Hold your colors in your hand and edit your wardrobe
Once you know your color type, you will want to have your complete color palette in your hands. This could be your color fan or a digital color palette. Then you can start understand what colors you already have and what colors you may want to try. You can do some light editing to your wardrobe, but hold off doing an aggressive cleaning until you complete phase N.
Download Your Digital Color Palette
Get your Color Guide (includes your digital color palette)
I - Identify your Signature colors
In this phase of your journey, you will start to learn HOW to wear your colors to fit your personality. Your signature colors express different moods and personality. Your Color Guide will break your color palette and neutrals down and explain certain colors convey different moods and perceptions.
Take the Discover Your Signature Colors course
N - Narrow down your color palette to your BEST colors
In this phase, you will be removing colors that just don't suit you and focusing on the colors that make you shine. All the colors in your color palette will be ok for you, but some colors may not be great based on your unique coloring and tone. And other colors will be your WOW colors.
Learning your level within your color type will help you understand what colors to focus on, which neutrals are your best and what colors you may want to avoid.
Download your Levels guide in Style Masters
If you're a member, filter the library by your color type.
Watch the bonus live call on Levels in Style Masters
Get on a Color Type Clarity Call in Style Masters
E - Express who you are through your colors and personal style
This phase is almost the beginning of a life long journey of self discovery. Our personal style changes over time. Our tastes change. Style change. Our bodies change. We will help you learn how to flatter your shape, how to wear your colors the right way and to pull stylish outfit together.
Join the like minded community of women that are all learning how to wear their colors, exploring their personal style and playing with outfit ideas to learn their personal style. They are growing in confidence in their choices and it beautiful!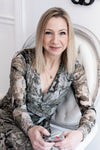 Hi, I'm Jen Vax
I'm so glad you're here! My name is Jen Vax. I am (not in any particular order) a mom of 3, wife of Joe :-), artist, speaker, Disney enthusiast, cruiser, entrepreneur and the founder of Your Color Style. More importantly, I help women, like you, express their authenticity through color and creativity. It takes confidence and courage to really let your true self shine... again... or maybe for the first time. Life has a not so funny way of pushing down our desires and discouraging what we really want.
Learning about color and discovering colors that not only flatter you but make you feel good... more like YOU... is a powerful step towards reconnecting with yourself.
More about Jen
Jen Vax is a writer, speaker, entrepreneur, runner & mother-of-the-year (not). She is the international best selling author of "That's My Color: Discover Your 5 Signature Colors To Transform Your Life".
Her mission is to help women express their true authentic self through color and creativity.
She is the founder of Your Color Style™, a proprietary color system that makes it easy for women to discover their best colors. Jen is the go-to expert on color, confidence and authenticity. Her expertise has been featured on Good Morning Washington, Good Day PA, Inc.com, She Knows and Thrive Global. She lives in Ashburn, VA with her husband and 3 kids.