Color Analysis Q & A - Intensity Levels 4 and 3. Will I go to 3 if I dye my hair blonde?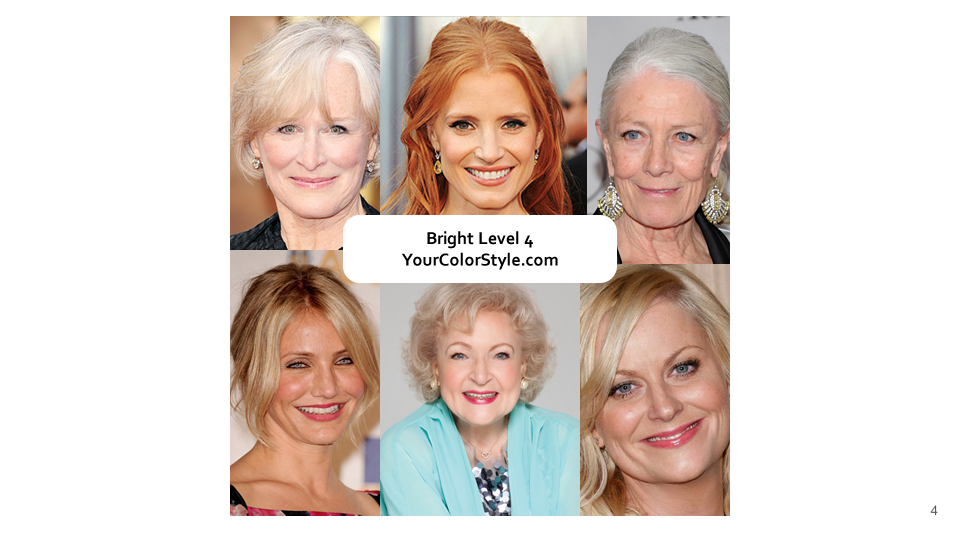 Jen answers the following color analysis question: "I am a level 4 bright. Now that I am starting to go grey/white, if I start dyeing my hair blond instead of current light reddish brown, would I be level 3? .....hard to imagine I would ever like being in light colors."
You can learn all about the levels of intensity mentioned in this video in the Color Analysis post. The levels of intensity are designed to help you decide if you are bright or soft. The higher the level of intensity the more pigment and brightness you have. Learning your level of intensity can really help you learn what types of colors look best on you. Read the color analysis post on the 6 levels of intensity.
There is another intensity chart that is shared with you when you receive your ebook of your Professional Color Analysis. It looks like this...
This is the intensity chart in the Professional Color Analysis e-book. The concept is similar to the 6 levels of intensity but this chart does not tell you what level of intensity you are. It's designed to help you understand your overall intensity and define your level of contrast. It also gives you an idea of how deep your colors can go.
The intensity chart above is for me. I have low contrast and light coloring. Therefore the patterns I wear should be solids or low contrast. My clothing should be light to medium colors and low contrast overall. The numbers do not align with the 6 levels of intensity. I know this seems confusing but keep in mind that I created the 6 levels of intensity to help you do a DIY color analysis. You would never see the intensity chart above unless you received a professional color analysis.
The reason I'm taking the time to explain the difference is because there are a lot of questions around this in the Facebook group. I hope this explanation helps.