Gail's Picks and Passes for February 2023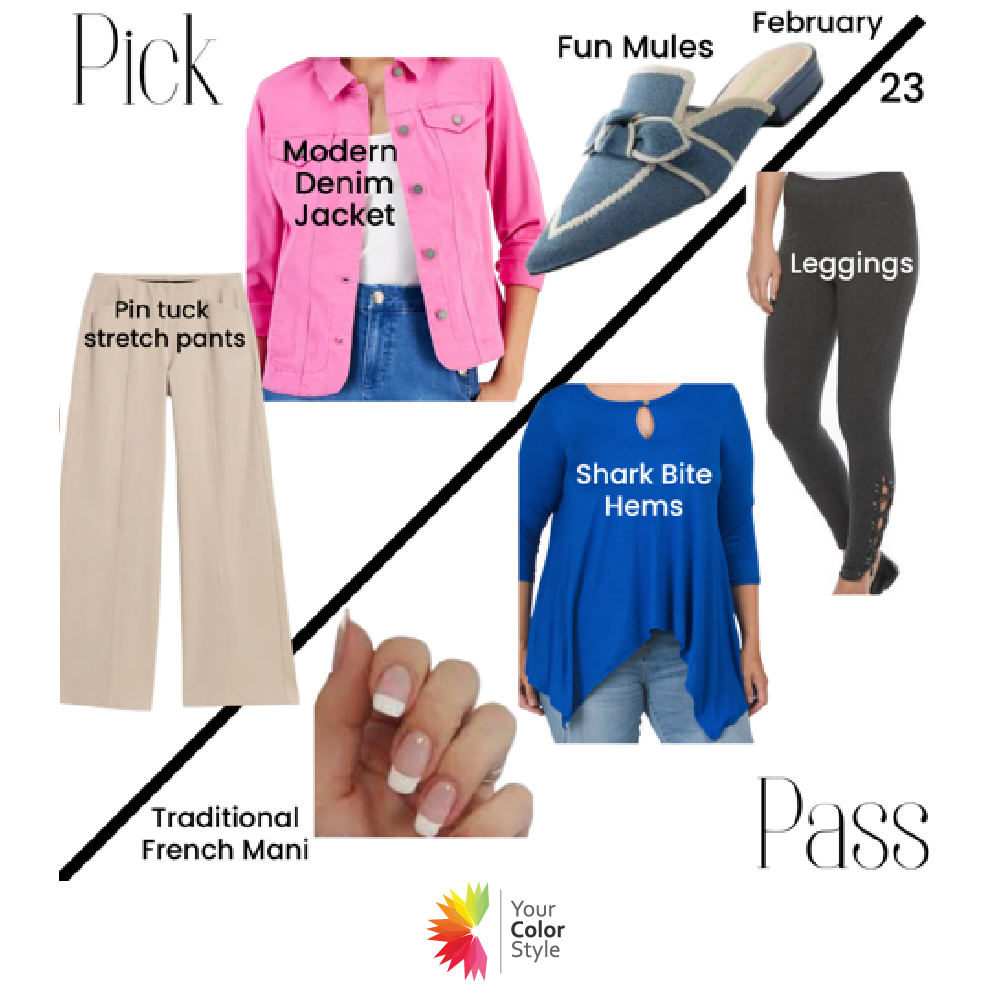 It's that time again! Let's talk about Gail's Picks & Passes for February 2023. Remember, these are only suggestions, you do you!
If you know your color type and love these inspirational color combos and outfits, join us in Style Masters. Each month, we give you small bite-size lessons on color, shape, style and beauty. You'll be pulling outfits together in new ways and discovering how to use what you already have, how to shop smart and how to flatter your body shape... all in your best colors. Join Style Masters today.
PICKS
Wide-leg pants in a stretch fabric, like pointe. Look for ones with a pintuck, which adds a dressier element to casual pant, making them office appropriate. These are comfy, smart looking, and easy to care for, what's not to love?
The Modern Denim Jacket in a great color is a piece to grab. The denim jacket has been revived and given new life. The cuts are modern with more shape, and the colors are all over the rainbow. This is a great piece to take you from Winter's end into Spring.
The Fun Mule trend is a good one! Express yourself with a shoe that is comfortable, but fun. Look for bold colors and interesting embellishments like bows, chains, and buckles. They are available in low, medium, and high heels, so take your pick and have some fun!
PASSES
The Traditional French Manicure is officially out. Opt for a modern twist on the French, like colored tips if you just cannot live without it. More on-trend are glazed nails and chrome nails.They can each give you the same versatility as the traditional French. Glazed (or glazed donut) come in sheer fresh tones and chrome is available in iridescent, silver, and gold metallics.
The Shark Bite Hemline is one to avoid. They can look sloppy and don't really flatter the figure. They can actually make you look bigger (or pregnant) in the middle, yikes! Opt for a cleaner line at the hem of tops and dresses/skirts or toppers/cardis with wavy openings that end with an uneven hem; they can help camouflage a large midsection. 
Don't purchase any more of those beloved leggings. It's okay to keep wearing what you have, especially if they are leather, corduroy, or velvet, but resist investing in more. If you want a slim leg, look to cigarette-cut pants. For comfort, look to sweater pants or the stretch pants discussed above.
Until next month,
Happy Shopping and Styling!
Gail Scott
YCS Beauty & Fashion Editor