Finally! Get clear on your color type.
Want Help With Your
Color Type?
Stuck on your Color Type? Need some assistance? Not sure if you're light, medium or deep? Bright or soft? What do some colors in your color palette not flatter you?
On the first Wednesday of every month, Style Masters members get Color Type confirmation from Jen herself. Now you'll get 1:1 support so you can move forward and dress with confidence!
Here are a few real life examples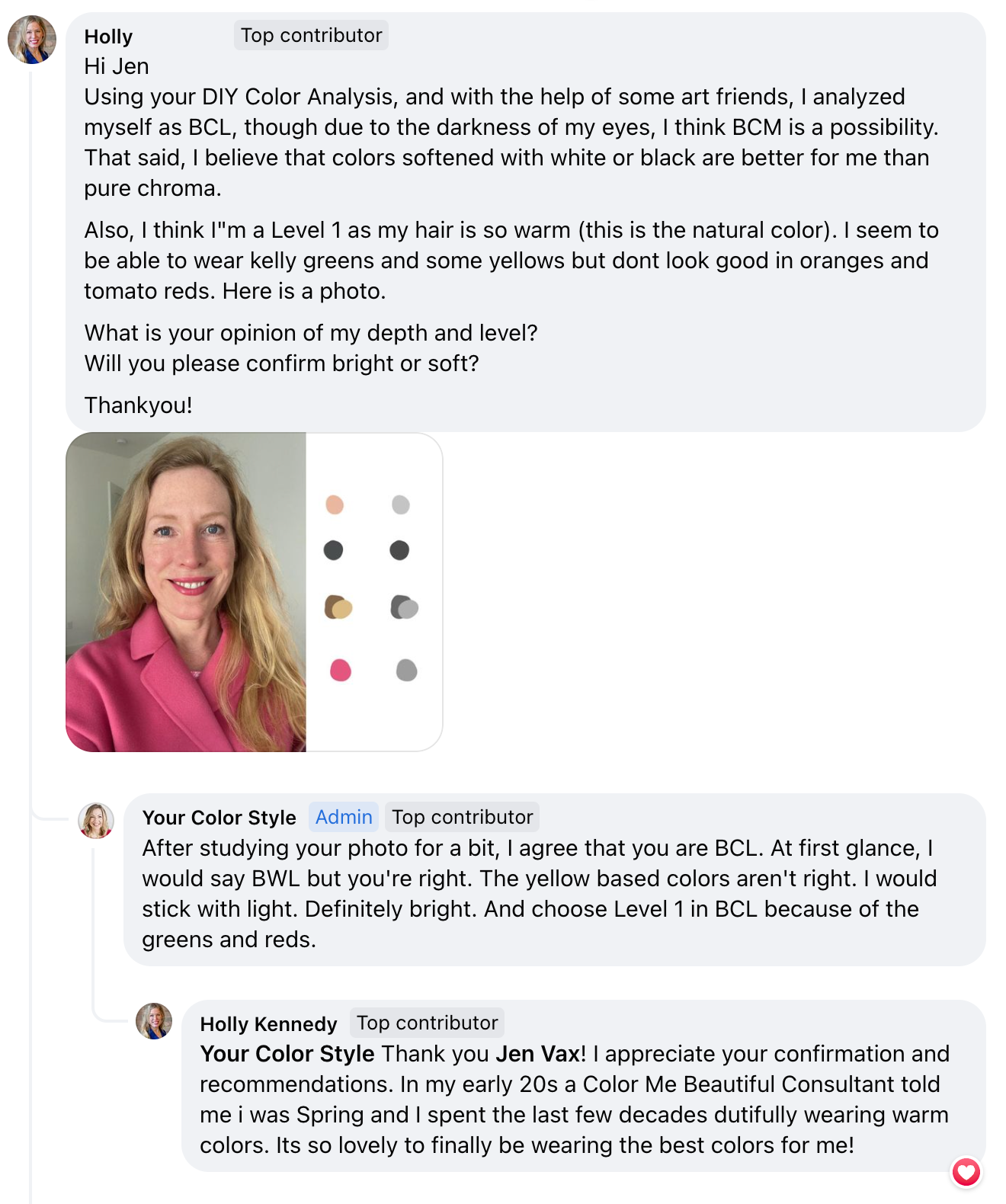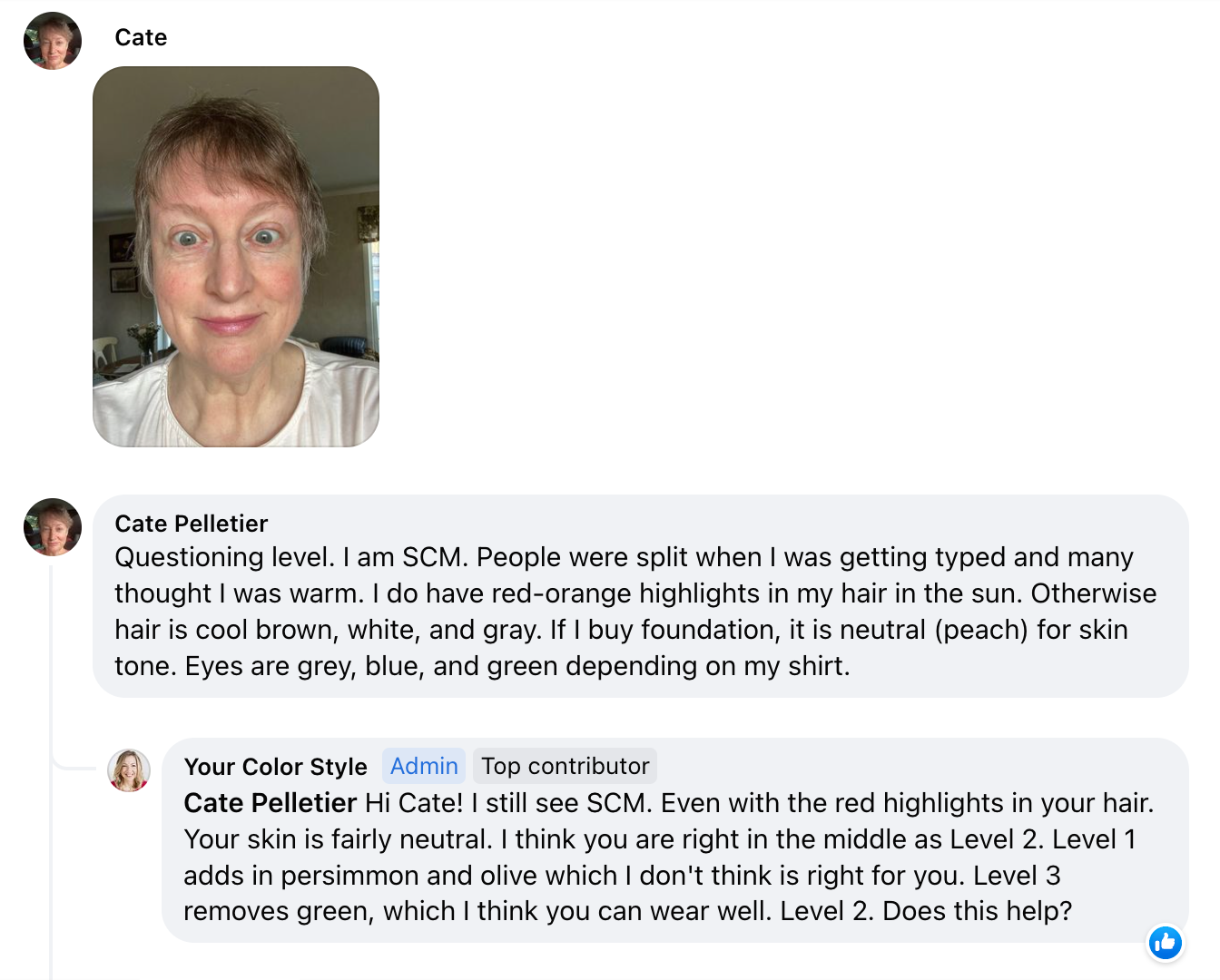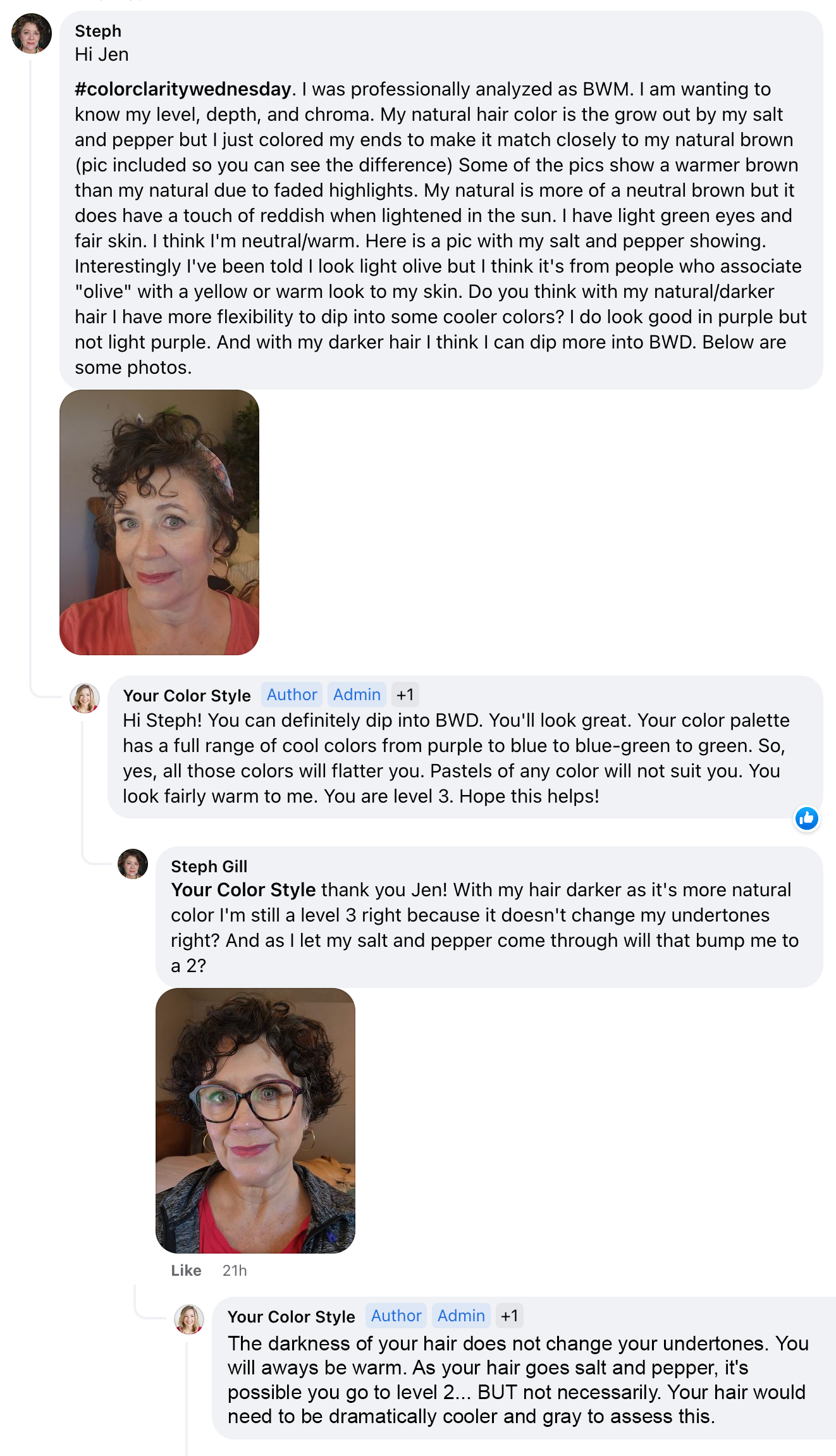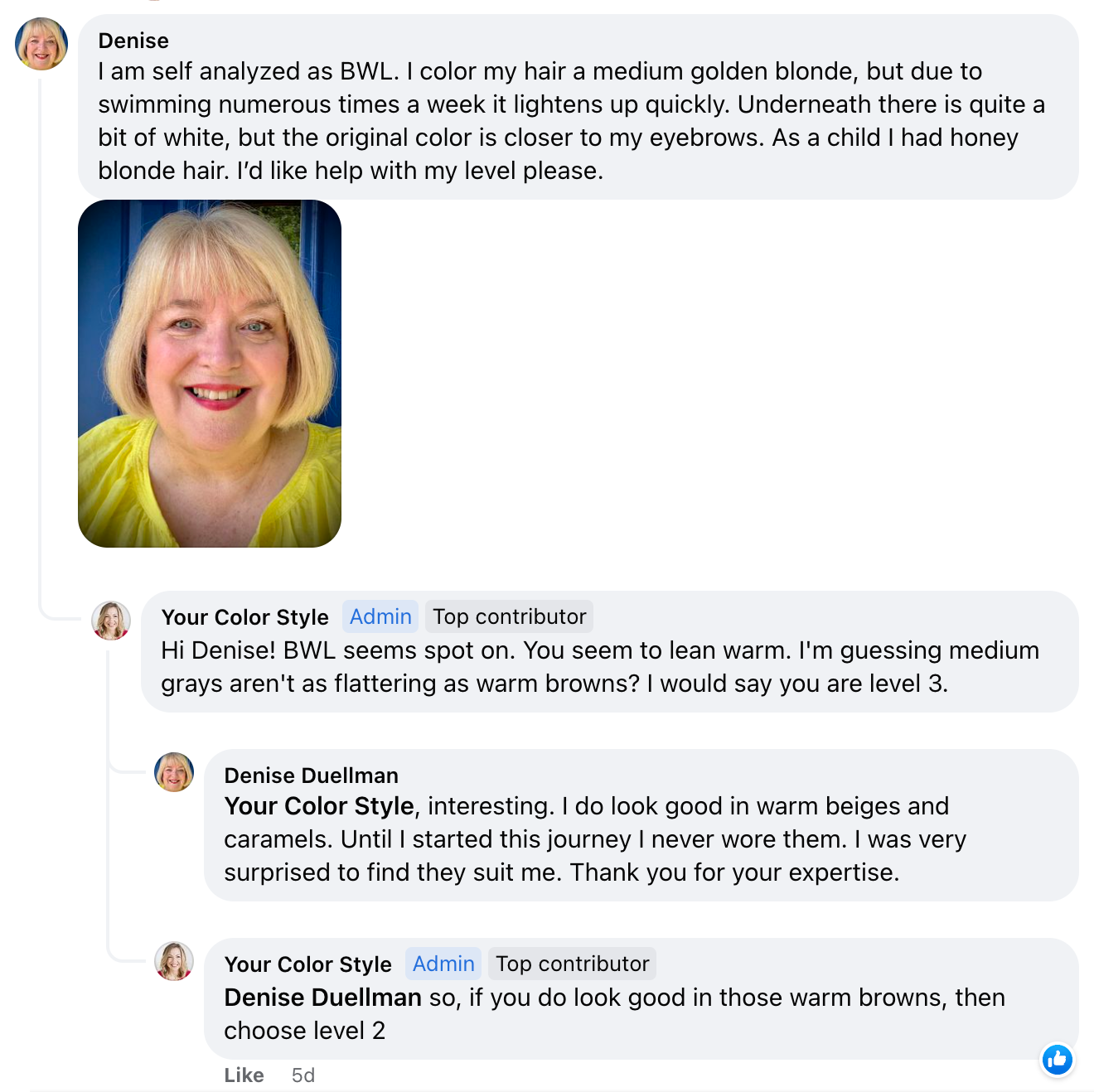 What's Next?
Learning your color type is just the start of your journey.
The Style Masters Community is created just for you to
discover all parts of your personal style.
To schedule a 1:1 session with Jen Vax, it would cost you $897. But you can have her direct support for only $29 in Style Masters!
Join Style Masters $29/month

You're about to discover how to:
Identify your color type Level to narrow down to your BEST colors
Mix and match colors and patterns to create exciting personal color stories
Dress your body shape in ways that flatter your figure
Create looks that express your personality
Put together outfits based on simple formulas
Complete the look with the right hair and makeup
Build a wardrobe that works for you and your lifestyle
Find the confidence to dress as the real you
Style Masters' members have similar stories. When I ask members
why they have joined Style Masters, they share with me their
frustrations around...
> choosing the right colors to wear even though they know their color palette
> having a collection of clothes that all feel random and don't go together
> not having the right clothes for the right activities
> looking frumpy
> wanting to wear the latest trends without looking ridiculous
> finding the clothes that fit their shape and style
> not knowing how to accessorize a look
> what makeup colors look best on them
"It feels good to wear color! Before I joined Your Color Style, my closet was almost all black, gray, white, and beige with a couple pops of red. Very slowly, thanks to Jen, Gail, and all you many fabulous members of this group, I'm learning and branching out. "
~ Elizabeth
You deserve to feel pulled together and start dressing the way that makes you feel good. No... that makes you feel AMAZING! Because it feels so good to be YOU.
What To Expect
> Monthly *Live Zoom Group Coaching Calls with Jen Vax and Gail Scott teaching you on our 4 main topics: Color, Beauty, Style and Shape. Plus Q&A. We LOVE questions!
> On the first Wednesday of each month, Jen hosts "Color Clarity Wednesday". Submit your photo to get feedback from Jen on Bright vs Soft, Light, Medium or Deep AND your Level. Plus Q&A. Important: Jen will not be able to offer feedback on warm vs cool.
> Style notebook worksheets that you can refer to during the live calls and use as you work through your style assignment.
> Bonus style lessons from Jen and Gail as they share their real life experiences and thoughts on trends, shopping and color.
> Mini mindset moments to help you connect with your true self and gain the confidence you need to feel your best.
> Access to the growing Style Masters content library loaded with tutorials on style, color and makeup which includes all content from previous months.
> All 12 digital color palettes for quick reference to each color palette
> All 12 digital color guides that show you how to wear the colors in your color palette for any scenario and lifestyle
> Color Type LEVEL guides that show you your BEST colors within your color palette based on your unique coloring and tone.
> Bonus Courses
*All Monthly Zoom Classes will be recorded and uploaded to the classroom if you can't make it live.
"Just loved the Style Masters program live call yesterday.
Finding my signature style with others is so much fun!!"
~Sue
Fashion is only a small part of
your personal style.
The lessons you learn in Style Masters will serve you for years to come. Trends come and go but true style is lasting. Trends may be part of what you wear but Style Masters is about learning what you truly like, styling outfits that reflect your personality, learning how to wear makeup that flatters you and being able to dress that shows the world you are vibrant and alive is so much more than the current fashion trends and name brands.
This is about expressing who you truly are and finally doing something for yourself.
Here's How the
Style Masters Program Works

Join the Private Facebook Group
Connect with a group of amazing women that are all here to discover their personal style, create outfits, create signature color palettes, discover trends they love and more. We support each with feedback and friendship.

Download and Print Your Style Notebook
Each month we release new pages to your style notebook. These pages are worksheets and reference materials that go hand-in-hand with your weekly lessons. Print what you want, work through them during the live coaching calls and build your notebook to reflect your personal style.
You'll discover worksheets on body shape, limited color palettes, makeup tutorials and so much more.
This is your personal working space to explore and refine your personal style.

Join a Live Coaching Call
Each month we all meet on a live zoom call. Jen Vax and Gail Scott will teach on the key style topics of the month. Plus, they will answer questions from the group, offer style and assignment reviews, offer ideas for outfits and color combos and whatever else that is requested by the members.
Join Today $29/month

Get Help With Your Color Type
Get Jen to help you!
Color Clarity Wednesday is your opportunity to post your photo along with questions about your color type, depth, chroma and level. I will not be able to offer feedback on undertones. 
Get confirmation from Jen herself.
Style Masters is the ONLY place where you can find deep and insightful content to better understand or confirm your Color Type. Plus you'll learn your level to customize your color palette even further.
You are going to SHINE in your BEST colors.
Join Style Masters To Participate
"The video today really made my day. I'm going through a
stressful divorce right now, and this was just the boost I
needed to make me feel truly good and beautiful. Thank you
and keep up the good work! I can't wait for the next zoom!"
~ Katy

All 12 Color Guides Included
Explore similar color palettes to find just the right set of colors for you. When you feel like you're inbetween color types, it's nice to have access to both color guides.
Each color guide sells for $37 but you get access to all 12!
Join Today $29/month

Browse the Style Masters Library
There are a LOT of tutorials in the Style Masters Library. Filter the content by your color type, by month or by a specific characteristic (ex. gray hair). You can search the content too!
New tutorials are added each month to the Style Masters library... all designed to help you learn how to pull a look together that is completely YOU.
Begin with the Start Here area and then filter by the current month to see the most recent lessons.
Join Today $29/month

Look at what others are saying!
These are unsolicited testimonials from our Facebook group. These just warm my heart. Will you take the plunge?
Take the plunge
"I would like to let you know how much I admire and
appreciate your devotion to helping women look their best through knowing their
color palette and how to use
it for their benefit. Your fine art background and
enthusiasm for looking at color theory with fresh eyes
truly brings us a unique perspective that eludes many
other color analysis systems."
~Janet

Shop With Your 10% Coupon
As a member of Style Masters, you receive 10% off of all your orders on YourColorStyle.com
Join Today $29/month

Jen Vax
Hi! I'm Jen Vax. I am so happy you are here. I am your behind-the-scenes coach here to guide, support and encourage you on your personal style and color journey.
Like you, I have felt frumpy and blah. I was constantly seeking my personal style and never really liking how I look.
But I've been through a journey of self discovery to grow into a person that is finally comfortable in her own skin (and confident in my style choices).
Today my mission is to help amazing women, like you, discover the creative playful fearless loving girl that is their true nature and create a signature style that expresses who they truly are.

Gail Scott
Gail Scott is Your Color Style's Fashion and Beauty Editor. She brings 27 years experience in makeup, coaching, personal styling and teaching. She is known for her excellent eye for color and is gifted at helping women express their style.
Gail has been passionate about style and fashion since she was a little girl. Her first clients were her Barbies. :-)
You'll find Gail in the private Facebook group offering support, tips and encouragement.
She and Jen create a fun, interactive and informative live call each month.