3 Ways To Wear Limelight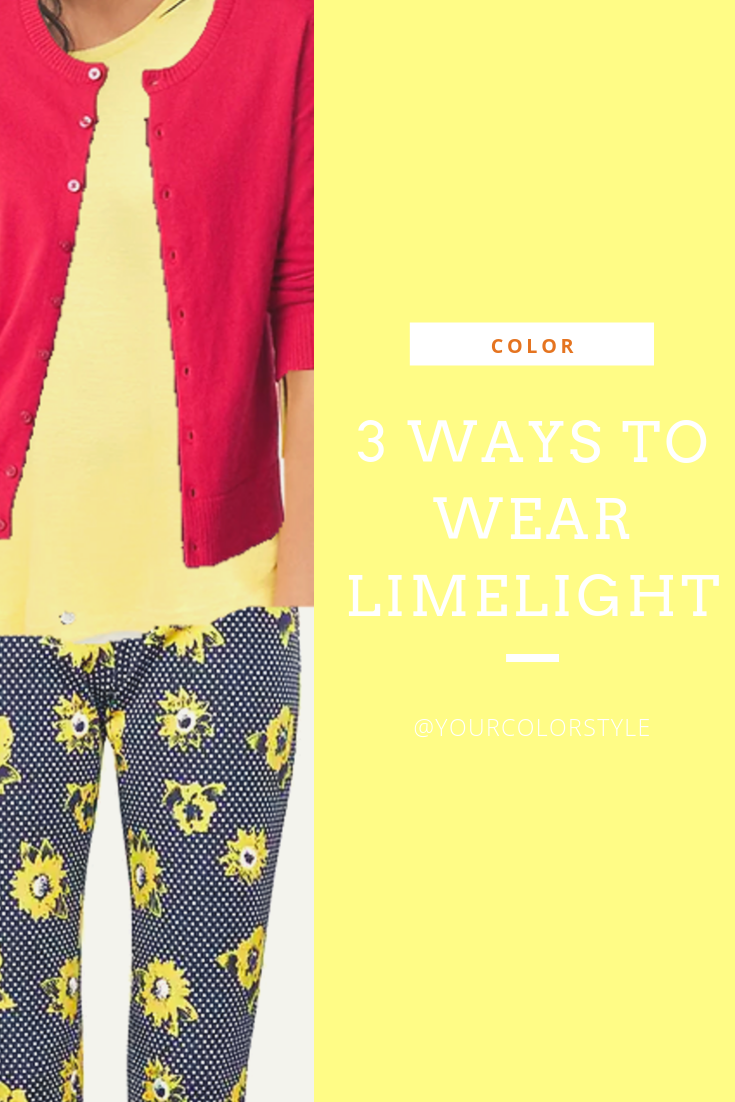 Limelight is one of this season's trending colors. It is a lemon yellow that is bright and warm. It looks best on someone that has a high intensity of brightness. Want to know if it it's a good color for you?
You can download February's color report on how to wear Limelight.
It looks like you're a ColorStyle member. Yay you! You can download your guide from here.
I've seen limelight in the stores. It seems to be popping up now. Maybe to help transition into the warmer weather? Not sure. I don't think it's the easiest color to wear (in my opinion). It will go easily with almost any neutral, but how about some color? I've pulled together 3 outfit ideas using this lemon yellow to inspire you this week.
FYI, the color combinations below come straight from the February Monthly Color Report.
Outfit Idea #1
This is a fun casual look. I found a pale yellow dress that I paired with an olive green khaki jacket. Pop in Peacock Pink (another trending color) for some fun.
Outfit Idea #2
I love red! This fun color combo is perfect for transitioning into the warmer weather. The lemon yellow plays well with the black. And then for some interest, a Valiant Poppy sweater. FYI, Valiant Poppy is another trending color of the season. If you're a ColorStyle Member, you can download December's trending color report for this bright red.
Outfit Idea #3
This is a fun color combo. Pair the limelight yellow with Quetzal green (trending color). Ground the outfit with black sneakers and a neutral denim jacket. If you're a ColorStyle Member, you can download January's trending color report for this deep teal.
Do you love any of these color combinations? They come straight from February's Monthly Color Report.
Try it out and share a pic on our Facebook Page. Look for the post with the 3 Ways To Wear Image and post your pic in the comments. Make sure to LIKE the page (thank you). Let's inspire each other to try something new!
Are you a ColorStyle Member yet?
Join the ColorStyle membership and receive the Monthly Color Report. You'll receive dozens of color combinations and ideas on how to wear the trending colors of the season. Plus, members get 10% off of all purchases on YourColorStyle.com! Click here to learn more and to subscribe today!
Jen