8 Ways To Wear Plaid and Tweed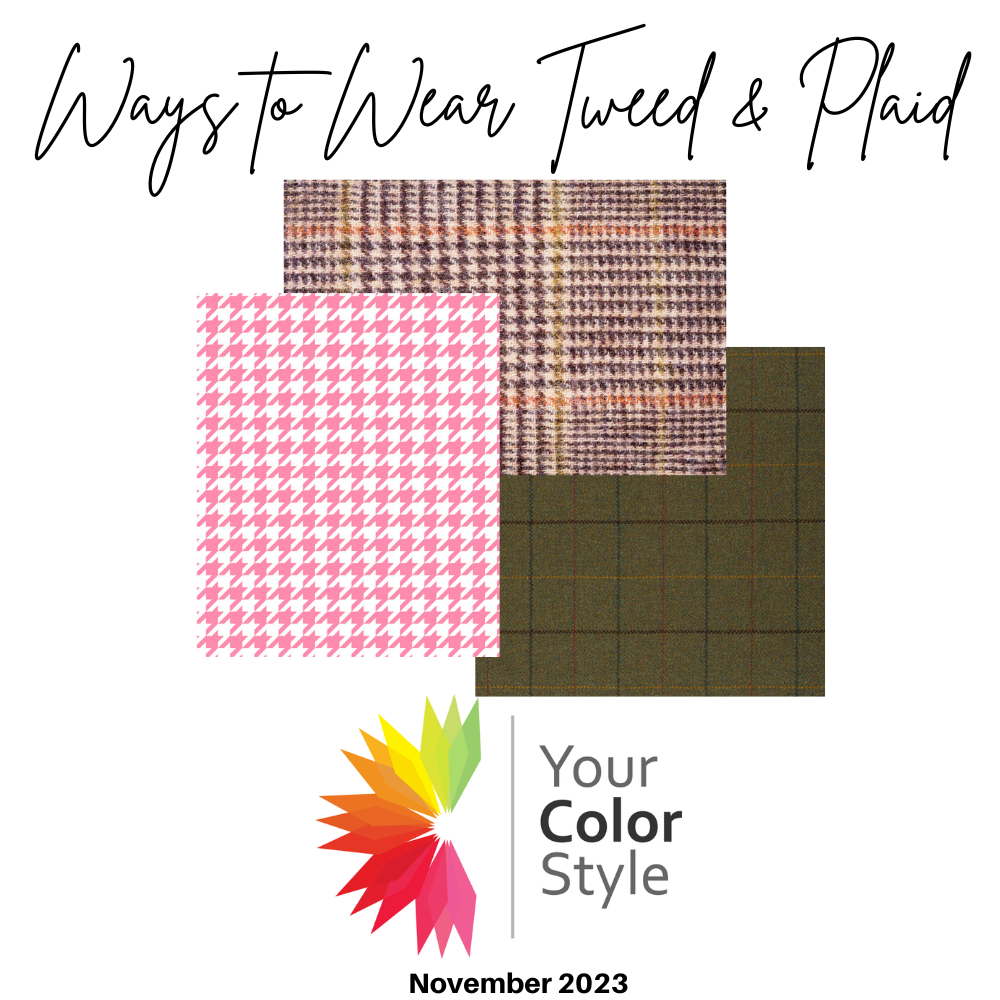 With the return of the classic look, tweeds and plaids of all kinds are in every store. Retailers are carrying herringbone, window pane plaid, glen plaid, and tweeds in all colors. Plaids sometimes trend toward warmer tones, plenty of great cool-toned plaids are available this season. These fabrics may be associated with conservative, traditional, someone matronly looks, but with the right styling, they will look fresh, modern, and right on trend!
If you don't know your personal best colors to wear, then take the Color Analysis Quiz.
Let's dive into Ways to Wear It!
How To Wear Plaid with Neutrals
Plaids work well layered with neutrals. For these looks, I've paired both a cool and warm blazer with a chambray shirt, which is treated as a neutral. If you want to embrace the turtleneck trend, choose one in a simple neutral from your palette. For the cool look, I chose blue corduroy pants, and for the warm look, I chose a deep camel corduroy. Corduroys are trending for the Fall and Winter fashion seasons and come in 5 pocket jeans and trouser options. The ability to dress them up or down makes them a great investment. For your accessories, you can choose a signature color from the plaid jacket or neutrals, either will be harmonious.
Pattern Mixing with Plaids and Tweeds
Pattern Mixing works really well with plaids and tweeds. Even though it is a sophisticated style, it is easier to create than you think. Start with a plaid piece such as a blazer that only contains 2-3 colors max. Then look for a print like a floral or stripe that contains two of the colors from the plaid. For our example, I chose the blue and mustard floral (the mustard is close enough to brown) to bring out the blue in the jacket. For the cool look, the gray and white stripes in the shirt mirror the gray and white in the jacket. Since a lot is going on with your 2 prints, stick to neutral accessories that will be background players in the look.
How To Wear Plaid and Tweed in Athleisure Style
A fun modern take with plaids and tweeds is to use them in an athleisure look. This unexpected way to style the pieces is gaining in popularity. It ties into the trend of mixing dressy and super casual pieces. The look starts with choosing your plaid or tweed. Then pull coordinating athletic pieces of medium to high quality into the ensemble. Cashmere sweaters or tees and sweater sweats work well for this look. For our warm outfit, I chose a camel hoodie and joggers with coordinating city sneakers. For the cool look, a cashmere T-shirt and simple gray sweats, along with pink and plum city sneakers are combined with a gray herringbone jacket. Keep the accessories simple, since for athletic activity you would not normally wear a lot of jewelry. Choose no-show or anklet socks to keep the vibe going. If you need to carry a bag, choose a cross-body, wallet belt, or wristlet.
How To Wear Plaid Bottoms
Wearing plaid on the bottom half of our body allows us to keep a signature color near our face. Combine the plaid or tweed with a contrasting color for a real pop. For this cool look, I started with a classic gray tweed a-line skirt and added a saturated pink sweater. For the window pane tweed in the warm look, we added a bold orange sweater. Finish these looks with tonal sweater tights and neutral boots to keep the focus on the top half. Your accessories should be bold options that contain the signature color you have chosen for your top. You can style these neutral skirts over and over with different sweaters, vests, and turtlenecks from your closet, which makes them a good investment.
Try your hand styling these flexible patterns and you will most likely surprise yourself with how easy it easy to create modern looks from them. But if styling is a struggle for you, check out our style section for resources to help you express who you truly are.
Start by taking the style quiz, then explore the other options we have for helping you to be confident in your look.
Until next month,
XOXO,
Gail Scott
Director of Style & Beauty Your Color Style