Gail's Picks and Passes for April 2023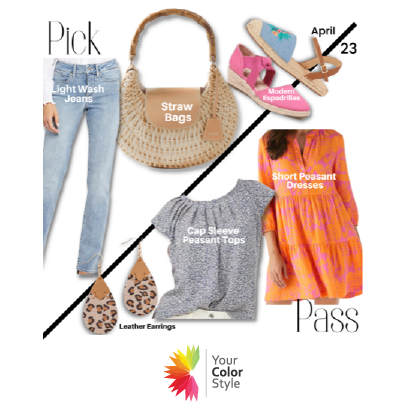 It's time for our monthly PICKS & PASSES!
As always, if you love something in the "passes", wear it, I am just suggesting that we don't buy more at this time. And if some items in your closet need to go, consider these. Selections are based on current trends and represent my personal opinion :).
If you know your color type and love these inspirational color combos and outfits, join us in Style Masters. Each month, we give you small bite-size lessons on color, shape, style and beauty. You'll be pulling outfits together in new ways and discovering how to use what you already have, how to shop smart and how to flatter your body shape... all in your best colors. Join Style Masters today.
PICKS:
LIGHT WASH JEANS are a great choice for Spring & Summer. They feel visually lighter and work well with Spring colors. A whiter wash will work well with white, pink, purple, and blue for cool-toned gals. For warmer gals, look for a "dirtier/warmer" wash or warm-colored threads and wear them with your yellows, oranges, corals, and greens. Straight and wide-leg versions both look great in this wash.
STRAW BAGS are super hot right now, and they should be, they are so cute! There is a version for every style and every price point. Round bags are really trending as well and look great in these natural fibers. Bamboo, wooden, and leather handles are fun details on these bags. For a sturdier bag, choose one trimmed out in leather with a sturdy inner construction. For fun, look for ones in bright colors or with embroidery (another hot trend) on them
MODERN ESPADRILLES are here! These new versions give a nod to the older espadrilles of our youth. They tie in nicely with the straw bags to complete a fresh look for the season. With pops of color, embroidery, leather, and other accents, these work for every color style. Healed and flat versions are available. Remember that the natural fibers make a shoe look more casual, so these are not for the dressiest of affairs or to be worn with conservative suits. They will look great with linen, gauzy fabrics, and denim. And if you love sneakers, look for versions with woven straw accents on them.
PASSES:
It's officially been DONE…those LEATHER EARRINGS. They were flaming hot at one time but fizzled quickly. This season, choose some fun straw, beaded, wooden, or metal versions. Larger-scale jewelry in a variety of materials is on trend and can add a lot to a look.
CAP SLEEVE PEASANT TOPS are everywhere. But caution, unless your arms are rail thin, that little sleeve can make them look thicker and often cut across the widest part of your upper arm. And those gathers at the top usually mean more fabric. As the fabric comes off of the breast, it can make the midsection look larger unless tucked. And if you are well endowed in the bust, these will make the girls look even larger.
SHORT PEASANT DRESSES tend to add visual weight. While flowy is nice in the Summer, their somewhat shapeless form doesn't do our body any favors. When they stop short, you don't have a chance to get the flow and hang that can enhance your figure. The bottom line, these can look like a tent. The exception, wearing it as a beach cover-up.
Happy Shopping!
Gail