Ways to Wear the April Color Palette of the Month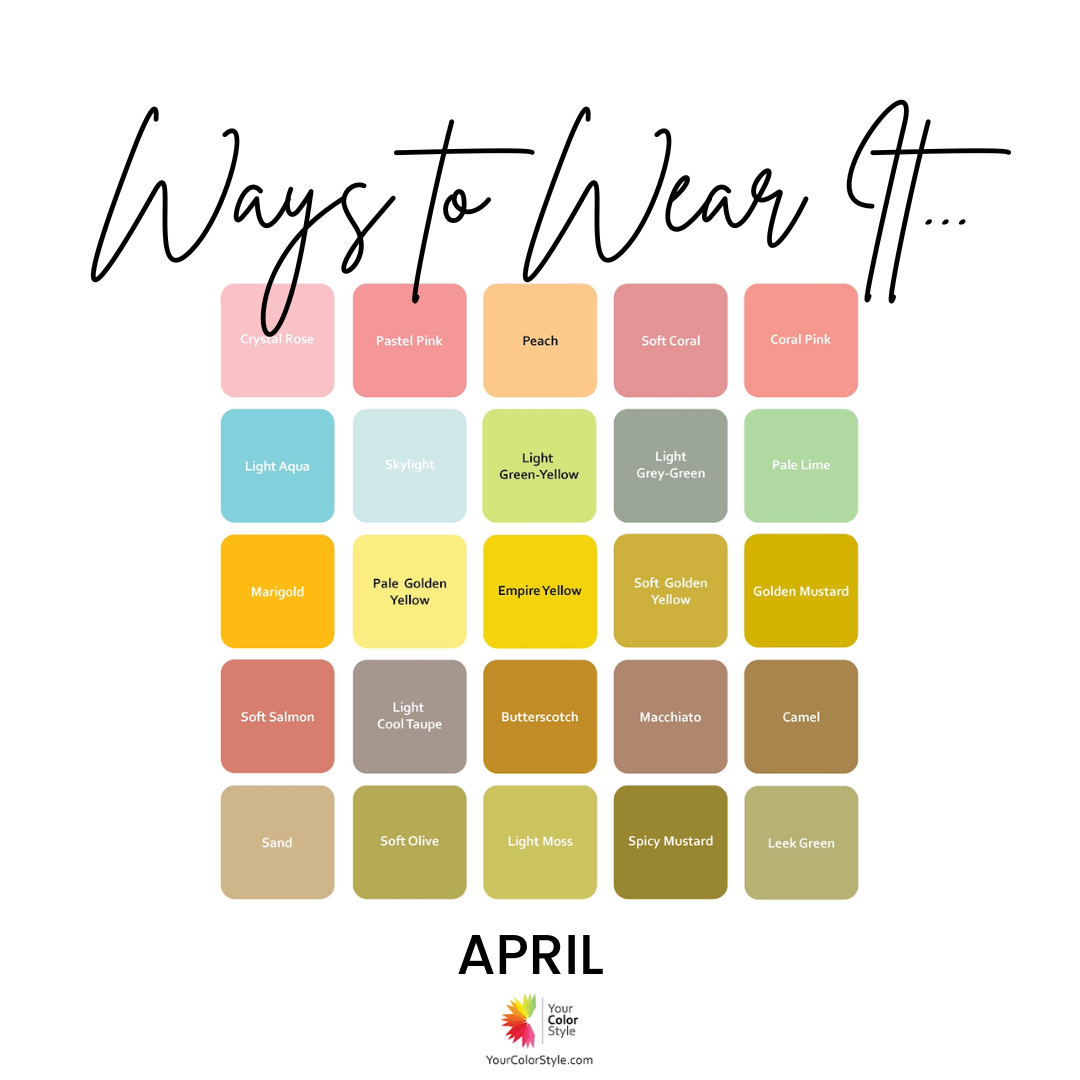 Spring brings out all of the bright and light colors. But this month's palette has shades for the deeply-colored gals as well. Let's look at some ways to use this palette in your wardrobe.
If you know your color type and love these inspirational color combos and outfits, join us in Style Masters. Each month, we give you small bite-size lessons on color, shape, style and beauty. You'll be pulling outfits together in new ways and discovering how to use what you already have, how to shop smart and how to flatter your body shape... all in your best colors. Join Style Masters today.
PATTERN MIXING is an advanced level of styling, but these shades make it easy. Soft or lighter shades are great to work with in creating this look. Choose a simple pattern like a stripe or dot, and pair it with a floral that contains the same shade as the stripe or dot. Keep the accessories clean and simple so that the patterns are the focus of the look.
PICK 3! Choose 3 harmonious shades and color block with them. Of the 3 colors, choose only one for your accessories, this will bring cohesiveness to the look. Here I have used city sneakers and a straw bag to bring in current trends.
A NEUTRAL COLUMN with a Kimono is a trending look that gives the sophistication of layers while allowing you to keep cool in the daytime, with cover for cool nights. Use a body close fit in a neutral for the long lean column and bring in color with a patterned kimono in a sheer fabric. Choose shoes in the same neutral to keep the column going, and add jewelry in a color from the print to bring it all together.
NEUTRALS WITH A POP OF COLOR are a simple Spring look. Put shades of white, beige, and/or tan together, then add accents of brighter or deeper colors with jewelry and accessories. The look is pulled together by choosing one color for both shoes and jewelry and adding a multi-colored bag.
Happy Dressing!
Gail