Gail's Picks and Passes for May 2023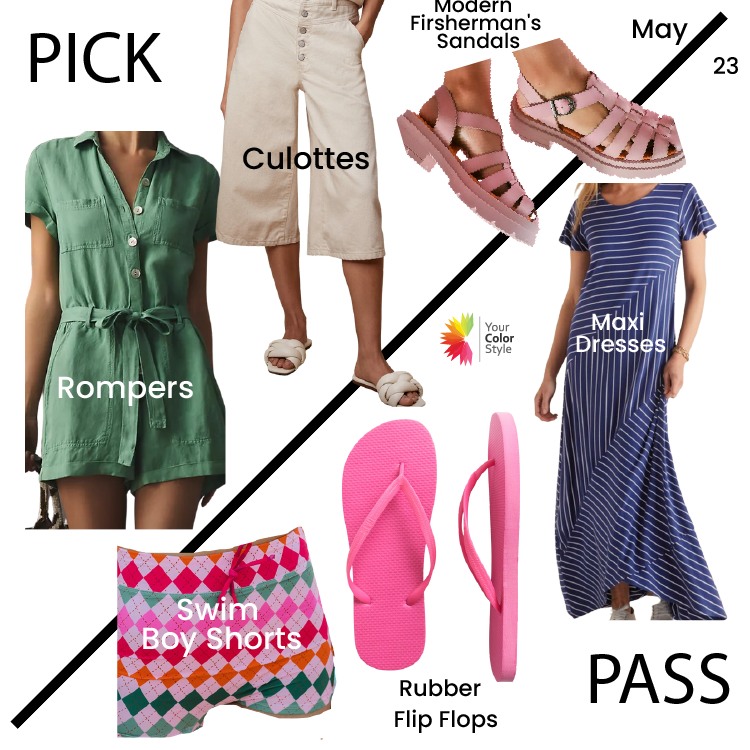 It's Picks & Passes Time!
This blog addresses trends that are being seen for Summer, and those that are gone or on the way out. It is meant as a helpful guide as you shop for new pieces for the season. As always, if you love any of these garments and enjoy wearing them, KEEP WEARING THEM! And feel free to comment on what you love and what you don't.
If you know your color type and love these inspirational color combos and outfits, join us in Style Masters. Each month, we give you small bite-size lessons on color, shape, style and beauty. You'll be pulling outfits together in new ways and discovering how to use what you already have, how to shop smart and how to flatter your body shape... all in your best colors. Join Style Masters today.
PICKS:
Rompers & Jumpsuits are everywhere. They come in a version for any size and most any shape. We are seeing them in most any fabric imaginable and every color under the sunny skies of Spring. When shopping, keep in mind your body shape. If you are more pear-shaped, choose one with a collar or details at the top. If you an inverted triangle, choose a slim-fitting top, with a flared or fuller bottom. If you are more straight and thin, choose one with a belted waistline to give yourself shape. For hourglass figures, look for one with a roomier fit that allows for your curves. A knit version will show off those curves. If you like the idea of a romper or tank-style jumpsuit, but want a little more coverage, top it with a sheer kimono. Pair these with simple sandals or sneakers for a casual look. For linen or dressier version, add a dressy sandal or espadrille. Add some simple colorful jewelry and you are ready to go!
Culottes & Gauchos are back! Another late 70s, early 80s trend has reared its head, and I am excited. This cut is flattering on most body types, as it creates the illusion of a smaller waist. Pair with a top that ends just past the waistline (a banded waist is perfect) or a top that full or partially tucks. A tunic is not the right choice, as you would lose the beautiful silohuette.
Modern Fisherman's Sandals-Another blast from the past, the fisherman sandal is back. We are seeing the traditional flat brown versions, but I think the colored updated versions are way more fun. In addition to color, look for lug soles for a fresh new take on this classic.
PASSES:
Swim Boy Shorts-These do not even flatter the best of bodies. They stretch across the fullest part of your thighs and can make your tushy look flat. Add in the risk of camel toe, and these are a full blown PASS. Opt for a swim skirt instead! The latest versions are not your grandma's swim skirts. They are updated with flattering cuts and details and provide even more coverage than those boy shorts.
Rubber Thong Sandals - Come on, you can do better! As grown women, we need shoes that support our feet and there are plenty of choices available. Why not get a great sandal with some style? Leave these for children, and get yourself some Fitflops, Sanuk, or Birkenstock flops.
Shapeless Maxi Dresses -These have had their moment, and it is over. Casual dresses are a great choice for Summer, but we don't do ourselves any favors by walking around covered head to toe in droopy fabric. Choose an on-trend shirt dress, a shorter t-shirt dress, or a midi-length denim skirt for a more flattering shape. Add in those raffia and straw accessories and you will look up to date for the season.
Happy Shopping!
Gail
1 comment