Gail's Style Picks and Passes for October 2023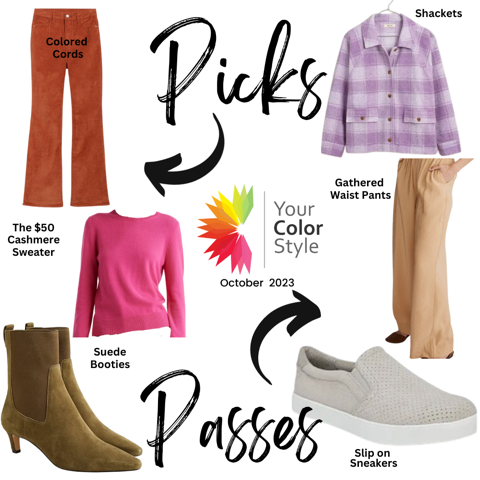 It's that time again, my monthly PICKS & PASSES are here!
Fall Style Picks
When it comes to Fall style and Fall fashion, fabrics always take a front row, and this season is no exception. So all 3 picks this month include Fall fabrics. The passes this time are either just out of style or not best for most body shapes. Let's dive in to my reasoning.
Colored Corduroy Pants
For Fall, colored corduroy pants are perfect. It's so exciting to see this trend return after being out of favor for women for many years. Corduroy pants are warm, comfortable, and come in a variety of colors and shapes. Choose the color that works in your color palette and the shape that is best for your body type and then mix them with jackets, sweaters, sweatshirts, chambray shirts, or even tee shirts. Dress them up or down, you will be right on trend.
Affordable Cashmere
Affordable fashion is here, and this season has brought us the luxury of cashmere at fair price. The $50 sweater above (see the links) is a steal and comes in a variety of colors. Layer it with a button up, or add a fun necklace and then throw on some jeans and you have a casual, yet high end style going.
Suede Booties
Suede booties are a beautiful finishing touch for trousers and jeans. They can also be worn with tights and skirts. The long slim look will peek out from hems, elongating the leg. This classic style will be around for a while, so go ahead and indulge in a beautiful pair. While you are at it, grab some trouser socks, colored tights, or sheer socks to complete the look.
Fall Style Passess
Okay, I am bracing myself for the blowback, but here we go with the passes.
Shackets are just awful.
There, I said it and I am standing by it. This trend is not flattering for most body shapes (read "ANYONE"). The big,boxy, overshirts are not flattering and look heavy on the body. Opt for a cute jacket instead.
Gathered Elastic Waistbands
Dressing your body shape rarely means adding "fat fabric", and that is exactly what gathered elastic waist pants do. The elastic waist can be comfortable, but avoid those with gathered material in an area that we want to look smaller. The extra fabric bunches up and will make the midsection look bigger than it is.
Slip on Flat Sneakers
Slip on flat sneakers are out of style. They are also unflattering on the foot, as they do nothing to elongate the leg. The large round toe box and flat shape can make our feet look short and wide. They can also give the look of standing in a hole, as they provide no lift. Choose a cool city sneaker, like a suede, colored, running or soccer shoe instead.
That's it, I can't wait to hear your thoughts!
Until next month, Happy Shopping!
Gail Scott