How Do You Wear Yellow? #lwiau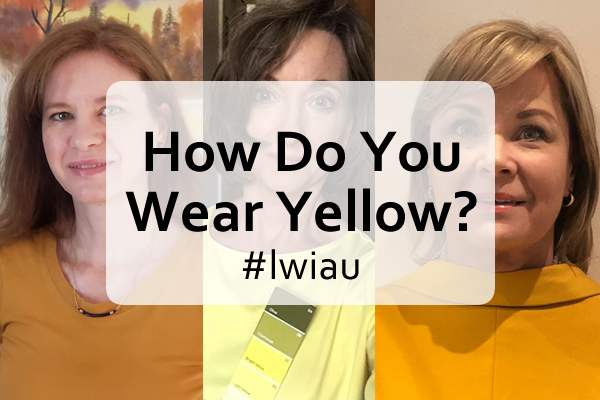 Last week, in the Your Color Style Facebook group, I asked you "How do you wear yellow?" and you responded with some great photos! Be inspired by the many photos to help you learn what shade of yellow looks best on you.
Mandy (my amazing virtual assistant) looks perfect in a mustard yellow. She is soft and warm in Your Color Style and looks amazing in the rich earthy tones. Mustard yellow is a yellow with a little black to darken it and a little red to warm it up.
Nettie is wearing a golden yellow. It's just a touch brighter than Mandy's mustard yellow above. Nettie has bright green eyes with warm undertones and I think she wears this brighter golden yellow well.
Stacie shares all the yellow she has in her closet. I think the one on the left flatters her best. She has rich hazel eyes and the richer yellow is in harmony with her. The middle and right yellows are light and bright and lemony. These are better for individuals who are bright and light OR bright cool and deep.
Becky says "On the left is a picture that was taken of me at work many years ago. Started my interest in color because my shirt, hair, and face all seemed to clash. I've been avoiding yellow ever since. On the right is today at work. The right yellow matters!! Also back to my natural hair color.
I also thought for many years to just wear gray as my go-to neutral because black and white can both make me look deathly. Thanks to Jen I finally realized camel is a much better way to go for me!"
Color Theory: What Shade of Yellow Looks Best On Me?
Here's a video where I explain the many different shades of yellow to help you find your perfect yellow.
Banetta Ann looks fabulous in this bright and light lemon yellow. She is bright, cool and medium in Your Color Style. Lemon yellow is a bright yellow with white added and can look great on the bright and cools. I also love how she paired it with a cool olive green jacket.
Coryna says "I adore yellow, this is probably my favourite shade of the sunny colour. I get tons of compliments every time I wear this shawl. I hand knit this using a delicate wool/silk blend, and it has beads for a bit of bling! Pretty sure I am bright, warm/neutral, medium/dark. Eyes are green/brown, shade depends on my health/mood. Hair is mid auburn."
Lisa wears a golden yellow top with a fun blue and green floral print. This works really well on her. I'd say she has cool undertones but she has bright coppery warm hair. This combination creates some confusion when it comes to wearing warm colors. Based on the coolness of her skin, I would have told her that a warm color isn't best, but because of her warm coppery hair, she can wear some of the warm colors. This top works especially well because it is broken up with bright blue and green that are in her color palette.
Janet is wearing a cool lemon yellow that has a green tint to it.
Robyn is wearing a light lemon yellow that complements her hair. I really like this on her.
Lauren is wearing a bright shimmery mustard. She doesn't think this works well. The color is right but this top isn't the best. Lauren needs soft colors and fabric. This top is shimmery and bright. If it were a softer matte finish and a little less bright, it would be perfect.
Nicole looks perfect in her golden yellow. She has warm undertones and is soft. This top looks great.
Deana's not sure if this is the right yellow for her. She has medium rich tones in her hair and eyes. I think this blouse is too light for her. This blouse would look good on someone who is very fair or very deep to create contrast.
Chris shares with us two very different yellows. The one on the left she says is the wrong yellow for her. Then she has the warm golden tones on the right. I agree! She looks best in those warm tones.
Do you want to play along in the next channel. Make sure you follow the Your Color Style Facebook page and the Your Color Style Facebook group. We're also on instagram!
I hope you've learned a little about the different shades of yellow and how you might wear this color best. If you know your color type, get your Color Palette Cards so that you can find your best yellow easily.
And if you're still struggling to figure out your color type, get your DIY Color Style Kit.