My Capsule Wardrobe Summer Color Palette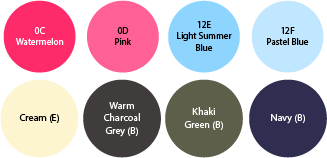 For the past few weeks, I've been living the capsule wardrobe lifestyle. I put my new course "
How to Create A Capsule Wardrobe
" to the test and I wanted to share with you my results so far. First, I had created my foundation of only neutrals. I loved this exercise way more than I thought I would. I though it was going to be boring. Only neutrals? I mean, I love all-neutral looks, but I was worried that I was creating something that I wouldn't really enjoy. BUT I loved it. Seriously. It has become my favorite thing. I only had 5 hangers in my closet. Well 10, but I doubled up with a cute little hook thing. That was my wardrobe to wear every day. I thought to myself, there is no way that I'm going to be able to practice what I teach. This is too few items. Turns out, it worked out perfectly. Better than perfect. Each morning, I had no trouble figuring out what to wear. I had more fun putting special touches on my limited wardrobe which made me feel MORE pulled together. I have not had one day where I've declared "I have nothing to wear!" I also removed a couple pieces. The final step is to add back in some color. Which I definitely wanted to do. So, below is my Summer Capsule Wardrobe in my summer capsule wardrobe color palette (see above). I'm really happy with this because it LOOKS like me... FEELS like me... and I feel really good in each item. I've never felt so much like myself until I started this capsule wardrobe journey.
If you're ready to simplify your life, take a look at
How To Create A Capsule Wardrobe
. It really is life changing. The less items I have, the less stress, and the more time I have to focus on the things I want to focus on. *Hugs* Jen Thoden
Learn how to gain instant access to the course "How To Create A Capsule Wardrobe"
If you're a Color Style Club member, you already have access to this course. Click here to login.