New Color Wheel and Color Fans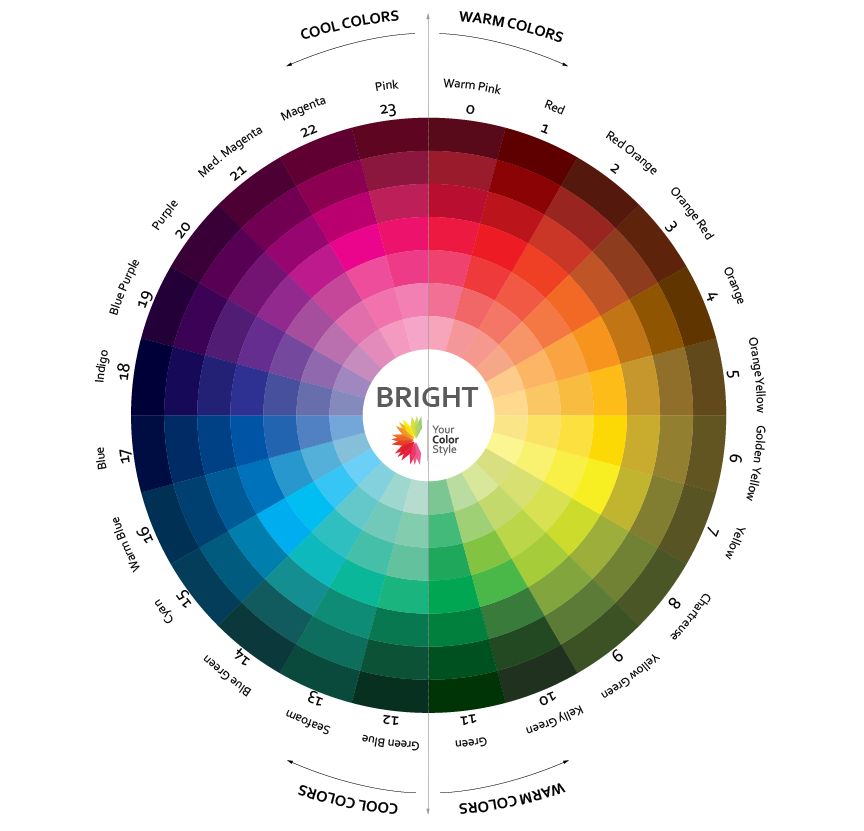 As of August 1, 2022, I have released a new BRIGHT color wheel. The placement of colors on the wheel has changed which now has green near the bottom of the color wheel. Green used to be on the cool side of the YCS color wheel, but it always bothered me that it was there. Green is an even mix of cool and warm and should, in my opinion, be a color that straddles both cool and warm. You'll see that this updated color wheel allows for this type of color theory.
You'll also notice that the I've updated the numbers around the color wheel. If you have a color fan with the barcode ending in 002, the numbers on your pages will NOT align with this color wheel. You will want to continue referring to the original color wheel. All new color fans with barcodes ending in 003 will align with this updated color wheel. If you would like a deeper explanation of the color theory and how I created this color wheel, you can check out my Color Mastery course. All the color theory goodness is in there.
I've put a pinnable image of the new bright color wheel below for your Pinterest board. You can also order a poster of this color wheel.
New Color Fans are coming
Based on the updates I have made to the bright color wheel, the bright color fans have all been updated to align with it. Changes include updated color wheel numbers on the pages, removal of the confusing temperature label on each page, color tweaks and addition of colors. As of August 10, 2022, only the new Bright Cool and Deep color fans are available. There are 12 additional colors in the new BCD color fan. 
Please know that there is absolutely nothing wrong with your current BCD color fan. This is simply an FYI and not a hard sell to buy another color fan.
As we sell out of our current color fans, we will roll in the new color fans. You will know if you have a new color fan by looking at the barcode on the back. If it ends in 003, you will have the new updated color fan. This is a slow roll out. There is absolutely nothing wrong with the current color fans. I am always reevaluating and tweaking colors. 
You will not be able to request a new fan of a certain color type. I will be printing the new color fans once that color type has been sold out. As a small business, I am not able to maintain two sets of similar color fans in inventory. I'll post again when another release has been made.
3 comments