Ways to Wear the June Color Palette of the Month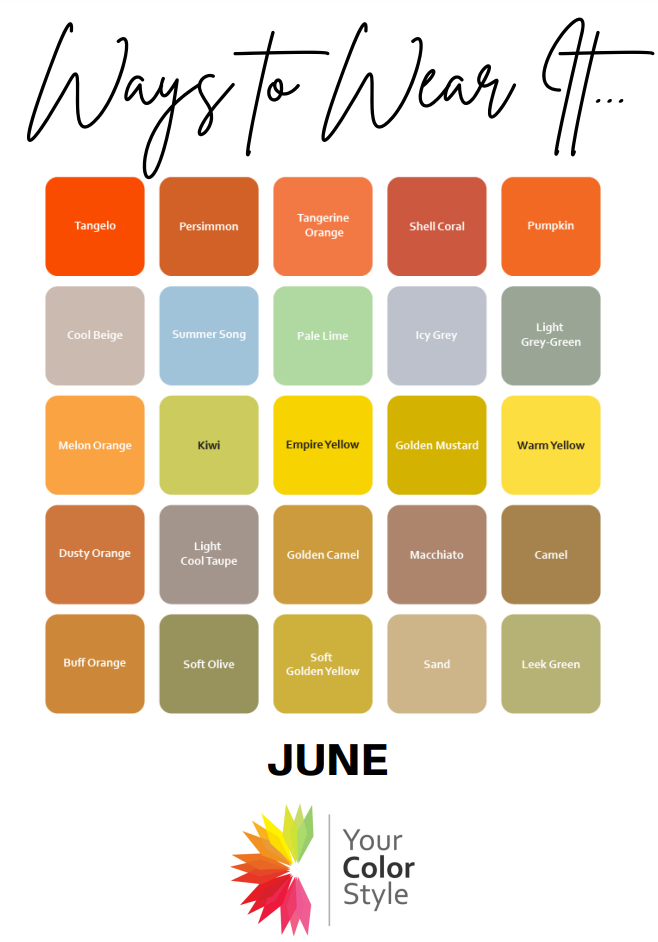 This month's palette is filled with lots of warmer tones and neutrals, but there is is something for everyone! 
Check out these looks for ways to wear the colors that keep you looking hot while feeling cool.
If you know your color type and love these inspirational color combos and outfits, join us in Style Masters. Each month, we give you small bite-size lessons on color, shape, style and beauty. You'll be pulling outfits together in new ways and discovering how to use what you already have, how to shop smart and how to flatter your body shape... all in your best colors. Join Style Masters today.
Safari Vibe-This look is HOT this Summer and there is a way for anyone to wear it. If the neutral tones don't work for you, switch out a black or white version. Keep the look cohesive with accessories made of natural elements like raffia, straw, and bamboo to keep the "outdoors" vibe going.
Pick 3-Pick 3 cohesive solids from the palette and wear them together. More than three and it gets confusing, and if three is overwhelming, go with two. Mirroring jewelry with the shoes brings balance and the bag brings a bright pop in the center of the look.
Unexpected Linen-Linen is another on fire trend this Summer. It's everywhere, in every color imaginable. Choose a less expected color. We've all seen the classic wheat and white linen, why not go with warm red or green-gray to shake it up a bit?  You'll look and feel cool. And choose an unexpected piece like a linen t-shirt (yes, that's a thing) or a dress in a new shape to make things even more interesting. All the pieces are being made in linen this year, so your options are endless. Accessorize with the chosen colors. 
Wear the Neutrals

 

together or with an accent color. Choose a palette color and ground it with your best neutrals. This allows the one palette color to shine. Or embrace the neutrals completely and layer them in varying shades for an easy, effortless Summertime feel. For these looks, choose accessories in the same neutral shades or coordinating metals.