3 Ways To Wear Russet Orange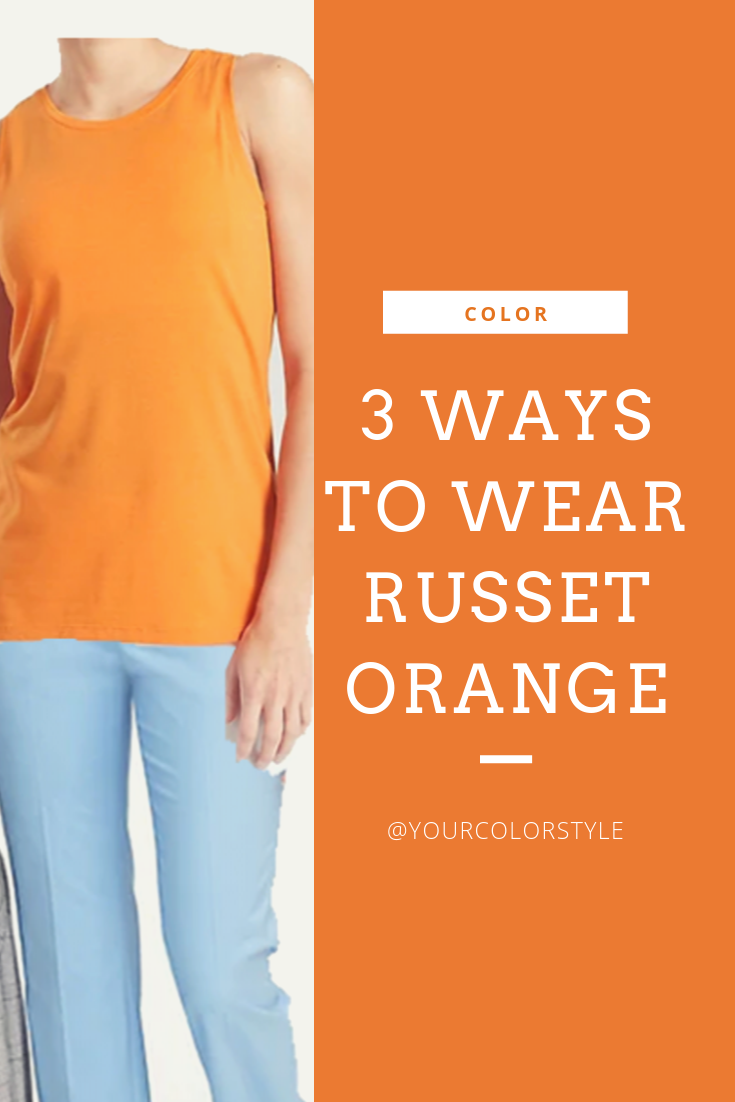 Russet Orange is one of this season's trending colors. It is a bright and warm pumpkin orange. It looks best on someone that has a high intensity of brightness. Want to know if it it's a good color for you?
You can download February's color report on how to wear Russet Orange.
It looks like you're a ColorStyle member. Yay you! You can download your guide from here.
I was surprised to see Russet Orange pop up into the stores recently. You would think it would be around in the fall, but I'm just starting to see it now. Orange is not the easiest color to wear... in my opinion. It will go easily with almost any neutral, but how about some color? I've pulled together 3 outfit ideas using this pumpkin orange to inspire you this week.
FYI, the color combinations below come straight from the February Monthly Color Report.
Outfit Idea #1
It looks like Russet Orange is going to make a great transitional color into the warmer weather. I paired it with a light blue which I really love. It's fresh. Loving the grey blazer too.
Outfit Idea #2
This is just a simple tank in Russet Orange and I paired it with white jeans. I dressed up the outfit with a classy ponte navy blazer and pumps.
Outfit Idea #3
Here's a casual twist. Try these super fun Russet Orange leggings with a cool grey sweater dress. If you love the color but it doesn't flatter you, try it as a bottom.
Try it out and share a pic on our Facebook Page. Look for the post with the 3 Ways To Wear Image and post your pic in the comments. Make sure to LIKE the page (thank you). Let's inspire each other to try something new!
Are you a ColorStyle Member yet?
Join the ColorStyle membership and receive the Monthly Color Report. You'll receive dozens of color combinations and ideas on how to wear the trending colors of the season. Plus, members get 10% off of all purchases on YourColorStyle.com! Click here to learn more and to subscribe today!
Jen