Color Analysis Case Study - Red Hair, Green Eyes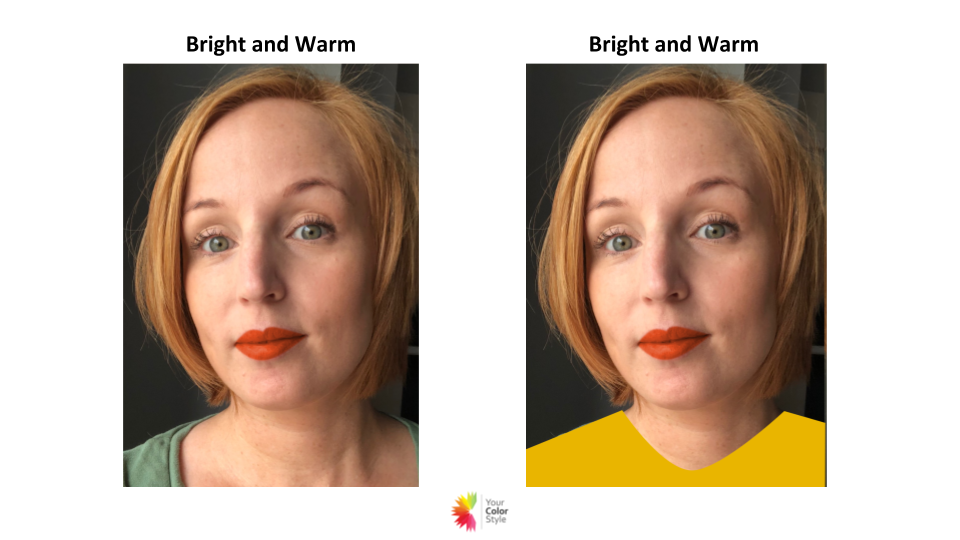 I have taken your color quiz and I think I am registering as a bright, warm and medium. Not what I was expecting as I have never gravitated towards those colors, mainly because my mother always told me that yellows, reds, pinks or oranges were not good on redheads. (I think she just didn't like those colors in general she never wore them herself as a brunette.)

I usually wear cooler tones and lots of greys. I now make most of my clothes and I would like to invest in fabrics that flatter me the best now that I am in my 40s. I did more research into this and looked up the color analysis case studies for redheads and could not find my type.

I have green eyes and my skin is usually pinkish, my veins are blue, but I look better in neutral face makeup. I have attached a photo of my face and eyes, one with no makeup on, my hair is all my natural color except for my eyebrows, which are currently not tinted the right color due to quarantine. They are naturally about 2 shades darker than my eyelashes, so very light. The other picture I have a light concealer, light coverage foundation, bronzer and mascara on, and of course two eye pictures. As this is the end of summer this is my 'tanned' self, so my freckles are more plentiful and I am about 2 shades darker than in winter.

Can you tell me if you think I am indeed a bright warm medium?