Gail's Picks and Passes for January 2023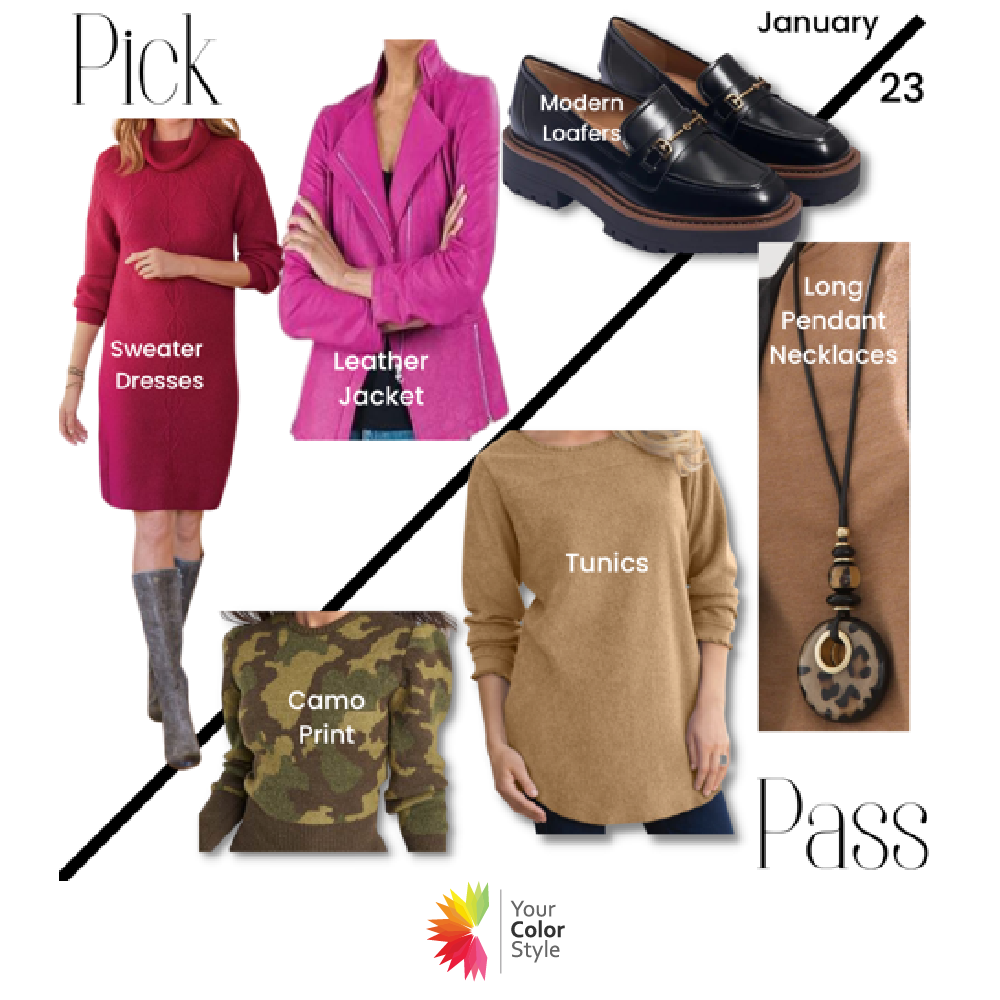 What do we love about January? DEALS? But keep in mind that some of those items may be on clearance because they are trending out of style. As always, if that style is YOURS, and you love it, then go for it. But for the fashionistas, here are some Picks & Passes to keep in mind while you are sifting through the bargains this month.
If you know your color type and love these inspirational color combos and outfits, join us in Style Masters. Each month, we give you small bite-size lessons on color, shape, style and beauty. You'll be pulling outfits together in new ways and discovering how to use what you already have, how to shop smart and how to flatter your body shape... all in your best colors. Join Style Masters today.
PICKS:
SWEATER DRESSES
If you are my client, you know this one already. I am obsessed with sweater dressing. And why not? It's warm, cozy, comfy, and stylish! Many women think these will be clingy and unflattering, but there are many options that actually glide over bumps and lumps. They are great for column dressing, and can easily be dressed up with heels or boots, or down with casual boots, flats, or sneakers.
LEATHER JACKETS
I'm suggesting that you grab one while the prices are right. Choose a color from your palette and then plan on wearing it into Spring for cool nights and rainy days. They are more versatile than you imagine, as you can pair them with dresses, slacks, or jeans. There is a cut to flatter every figure, so don't be afraid to try one.
MODERN LOAFERS
Loafers are making a comeback, and the newest ones have lug soles in both low and high heel heights. A comfy option for both work and casual outings. You'll find them in lots of colors, so choose one that works with your palette. Pay attention to any hardware, make sure it works with your colors as well.
PASSES:
CAMO
I've read several places that it is officially OUT. Opt for olive and deep green solids or geometric or floral prints instead.
TUNICS
I know, I know, you love these. They did cover a multitude of sins, but alas, they've had their time. And just like the cold shoulder tops we discussed last month, they've been overdone and poorly done. Opt for a tailored shirt that is suitable for a tuck, or a sweater that has a waist instead.
LONG PENDANT NECKLACES
These have been out for a bit, so it's really time to switch it up. Shorter necklaces are the look of the moment. Chunky pieces, layers of pearls, and loose chokers are trending strongly right now.
Until next month,
Happy Shopping and Styling!
Gail Scott
YCS Beauty & Fashion Editor