Jen's Fall/Winter Color Palette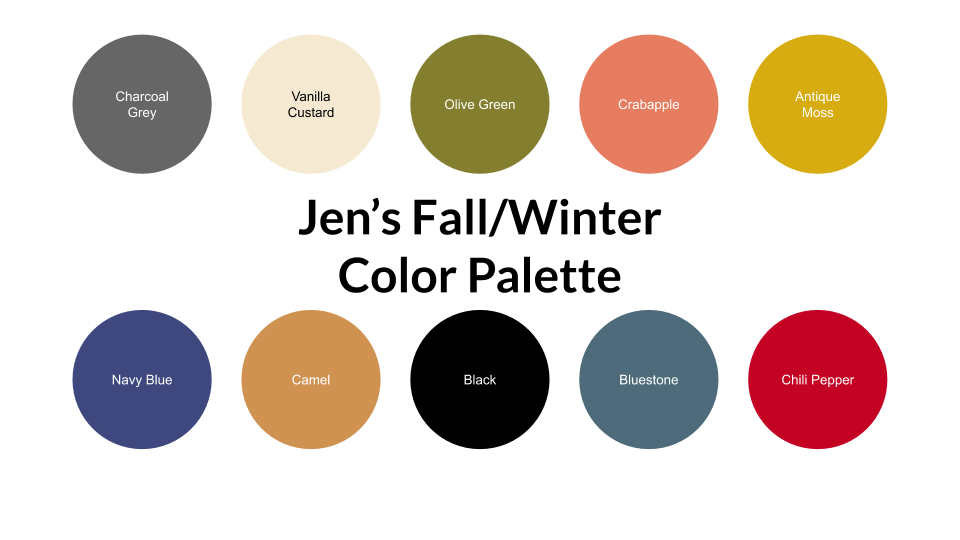 These are the colors I've chosen as my color palette for this Fall and Winter. I took into account what I already have, my color type and most importantly, what I just love to wear in the colder weather.
On the left are six neutrals. Four are the trending neutrals of the season. I wanted to create a foundation first. This way, I can easily mix and match staple items. I have a lot of sweaters in Vanilla Custard and Camel. I have a LOT of olive green this season carrying over from the summer. I also love charcoal grey in the fall and winter. I have black boots, leggings, jeans, skirts, dress and a sweater. I know black is harsh on me, but I love it. I wear black mostly as a bottom.
I bought navy, olive green and black pants. I'm not sure how much wear I'm going to get out of the navy. It's really not my thing but it would be a nice alternative to black pants. So... I added it! It's the only navy I have in my wardrobe right now.
The two colors I keep gravitating to this season are the Crabapple and the Bluestone. I just love both. They are trending colors and I'm seeing them everywhere. Which means it will be easy to shop for them. I bought a sweater in each of these colors. I love how they work with the neutrals.
I'm not sure if I have any charcoal grey bottoms yet... so I'm thinking some nice grey pants would be perfect for my wardrobe. Or maybe a skirt... hmmmm.
The other two colors I have, I'm calling my Pop colors. This is a new concept that I'm weaving into my new book (coming to Amazon in October). Pop colors are colors you love but may not wear as a main color all the time. But, they always look great popped into your outfits. I can pop red into any of the combos above. Red flats. Red bag. Red coat. Scarf. You get it. The same with the Antique Moss. I don't see myself wearing Antique Moss as a main color but I have my eye on a peacoat and a pair of shoes. How fun!
Join us in the Capsule Wardrobe Facebook Group to be inspired and share. This group is open to ColorStyle Members.