4 Ways to Wear Brown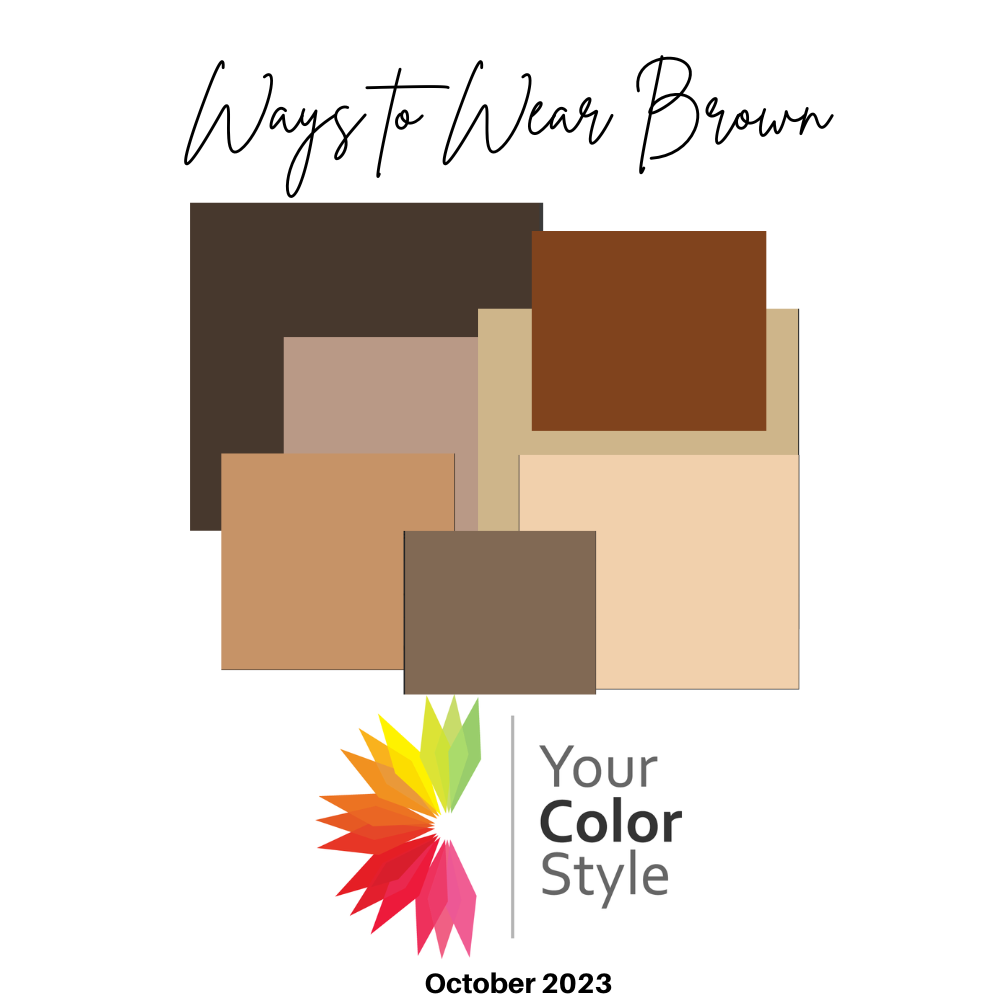 Brown doesn't have to be boring! Just look at all of the options. Keep in mind that brown does not always equal warm, and our women with cool undertones can wear brown as a great option to your black and gray neutrals.
On this page:
How To Wear Brown for Warm Undertones 
Soft and Warm Color Types
For Soft & Warm Color Types, you'll find that light to medium browns work well in your wardrobe. Here we have added in a soft, but lively orange to bring some life to the neutral, then grounded it with deeper warm browns in the shoes and accessories. Keep your makeup soft and warm with muted corals and tawny shades to balance your face with the look. A soft peachy shimmer on the eyes would look as if you've been lit by a soft spotlight. Accents of soft, hammered, or antique gold will make the look. 
Bright and Warm Color Types
This look brings a surprise for the Bright & Warm types. We've gone across the color wheel into the purples for a bold contrast to the warm, reddish brown pants. These intense shades are a perfect combo for your bright coloring. If you are Bright, Warm, and Light, you may want to substitute a camel pants and bag. Earthy reds, corals, and tawny shades will bring the look up onto your face. This look will be great for those with brown, blue, or green eyes, as the purple and orange will really make your eye color pop.  A plum and copper eye look with just a touch of a shimmery gold accent would be perfect with this look. 
How To Wear Brown for Cool Undertones 
Soft and Cool Color Types
Cool & Soft Color types, keeping the shades muted is the key to this look. We've dipped into the medium cool browns/taupes for these corduroys and them paired them with a soft deep blue in the tweed jacket. A white, taupe, or matching blue tank, tee, or turtleneck will work under the jacket. Choose the top based on your depth level. The shoes and necklace both reflect the blue, while the purse mirrors the taupe pants. We finished the look with hammered and antiqued silver earrings to keep it soft. For makeup, woody pinks and soft berries will look amazing with these shades.  Try brown or navy eyeliner with this look instead of black or gray. An accent of navy eye color will be a nice addition for those with deeper coloring. 
Bright and Color Types
Bright & Cool Color Types
can use a trick with cocoa brown. If you notice, it works like black, but is slightly less intense. This cool deep brown is the perfect shade to contrast with the brights in your wardrobe like magenta. We've kept the dark shade on the bottom half of the body and repeated the magenta in the accessories at the top to keep bright color around the face. This is a great way ground a bright color and make it feel on point in Fall and Winter months. Balance your makeup with bright pinks, plums, and bold berries. Try out a plum or brown eyeliner instead of black for harmony in the look.
You may also enjoy the video: Color Theory: Warm Brown vs Cool Brown
Not sure if you have warm or cool undertones, take the Color Analysis Quiz