What To Wear For Thanksgiving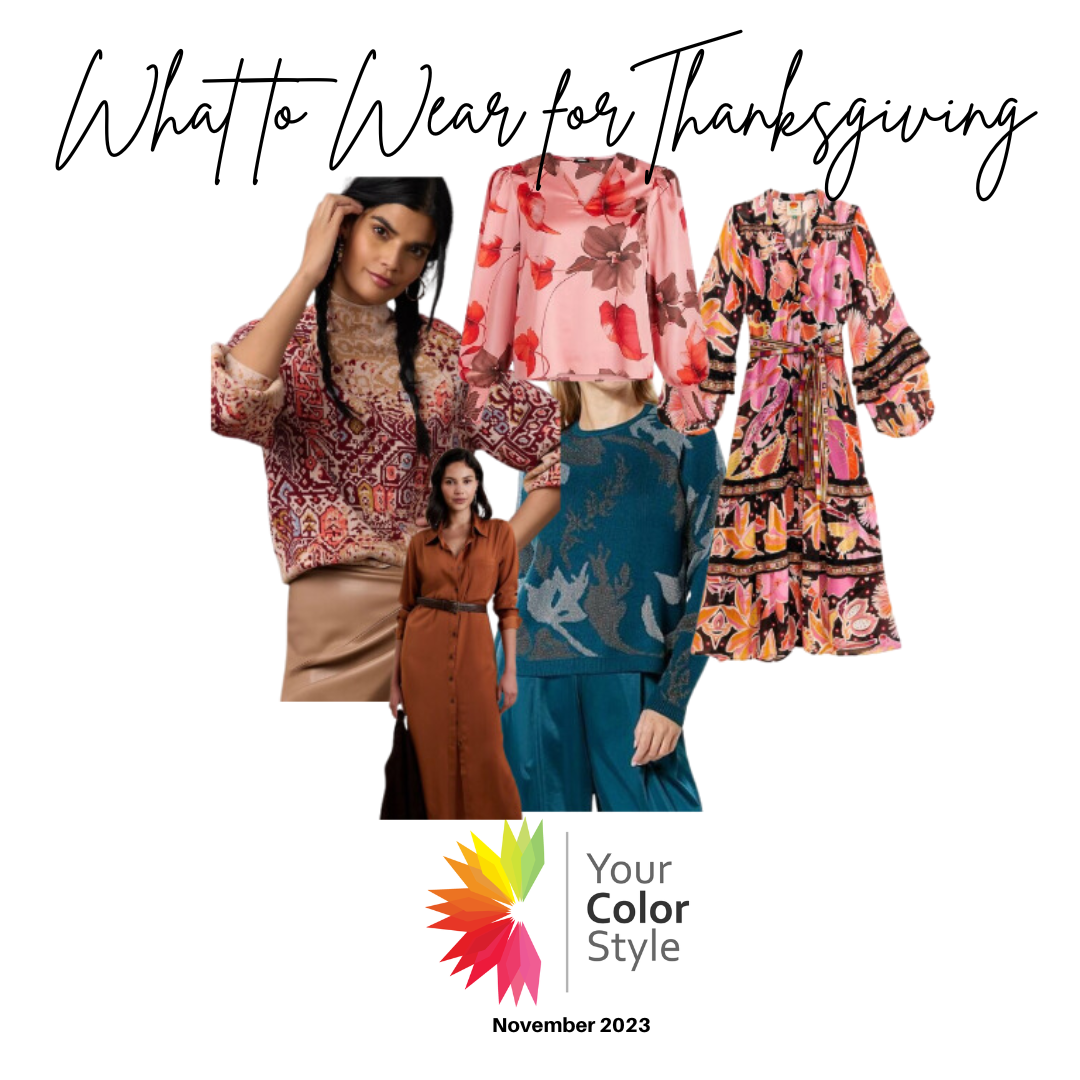 As we approach the holiday season, we all get to that moment when we ask ourselves, "What will I wear?" I hope this post helps you to put together a great look for Thanksgiving, whether you dress up or down for the occasion!
It's always important to be appropriately dressed for the time, place, and event. Holidays are celebrated very differently by different people, so consider your needs when shopping for and/or putting together your look.
Things to consider when deciding what to wear for Thanksgiving
Will this event be indoors or outside?
What will the weather be the day of the event?
Who am I seeing at this event and what impression do I wish to make?
Will I be active at the event?
Will I be traveling to the event (some things don't wear well on a long ride)?
Is the garment easily soiled by food, dishwashing, or slobbering babies?
Will the clothing and shoes be comfortable throughout the day or evening?
Have I worn this before around these people?
Does this fit well and is it ready to wear?
Is this look suited to the season and event?
Where will I be sitting at the event?
Chair, floor, lawn chair, bench?
Will I need a coat or sweater to stay warm?
If you are on cooking or clean-up duty, consider changing your top for the meal and wearing something comfy and cool for the work part. If not possible or desired, wear a great apron, OR pick up some long-length stick-on adult bibs from Amazon (linked). Wear them while working and then just remove and trash them when done. They will not add heat, as your arms stay free.
Do not wear anything tight…'tis the season for eating!
LASTLY, stay in your color palette. Since Fall brings about thoughts of warm shades, if you are cool-toned, choose warmer shades within your palette, or bring the season in through pattern and detail.
Not sure what your color palette is? Take the Color Analysis Quiz
I've put together some looks to inspire you as you dress for the week's festivities.
For a DRESSY look, a skirt with a silky blouse is always a hit. I've chosen a warmer pink for our cool-toned gals, with some chocolate brown in the print that ties in with our skirt and boots. The warmer pink and then brown will make the outfit feel like Autumn while staying in your cool palette. A shirt dress in a warm seasonal color like mustard or olive is perfect for our warm-toned gals. Accessories will bring more elegance to the look, so choose them carefully. Here we have colorful earrings to match the cool blouse and a neutral on-trend earring with an animal print belt for our warm shirtdress. Nice riding boots or pumps will further dress up the look.
Pro tip: Slide a pair of flats into your bag if you think you may need them later in the day or evening.
Thanksgiving Looks in an Elevated Casual Style
An ELEVATED CASUAL look can work for many occasions. Patterned sweaters are a perfect choice for a holiday gathering in the Fall. If you are warm-toned, choose one in autumnal hues, and if you are cool, stay in your palette, but maybe look for leaves or some other details that pay homage to the season. Patterned sweaters provide some warmth, along with comfort and style, and when paired with corduroy pants, the look is perfect for Thanksgiving. You will be comfortable and able to move around while still looking fantastic. An on-trend shoe such as a loafer or a metallic flat keeps the casual, but thoughtful look going all the way to your feet. Simple jewelry in your best metal will finish the look without fuss.
Pro tip: Consider layering a white or tan button-up shirt underneath the sweater in case you get too warm or if you want a different collar silhouette.
Thanksgiving Looks in an BOHO Style
For a BOHO look, go with a flowy maxi dress. For warmer-toned girls, choose oranges and golds, and for the cooler-toned girls, look for a floral mix in your best shades. The length of the dress, with longer sleeves, will bring a feel of Fall. Keep the BOHO feel going with beaded earrings and laced-up sandals or boots with a slight Western detail.
What To Wear For Thanksgiving When You Run Hot
By now, some of you are probably saying, "I want to look great, but, I get so hot" around the warm stoves and crowds of people. I can relate, believe me. I've been known to adjust the thermostat at a relative house…"shhhh!".
If temperatures are still warm where you live, or you are just one hot woman, then consider these options to give you a festive Fall look without the sweat.
Short-sleeved sweaters can save the day. The fabric and texture say Fall, but the breeze on your arms keeps you cool.
A sheer blouse that allows for some airflow can be a lifesaver. Just wear the proper undergarment.
An above-the-knee skirt can allow your legs and nether regions to get some air.
A flowy skirt is modest and covers any leg issues while allowing some airflow.
Thin pants as opposed to wool, denim, or corduroy will not trap in as much heat.
Is you're wondering what your personal style is, take the Personal Style Quiz
Happy Thanksgiving to you all.
I am grateful for you,
XOXOXO,
Gail