3 Fun Ways To Wear Spring Crocus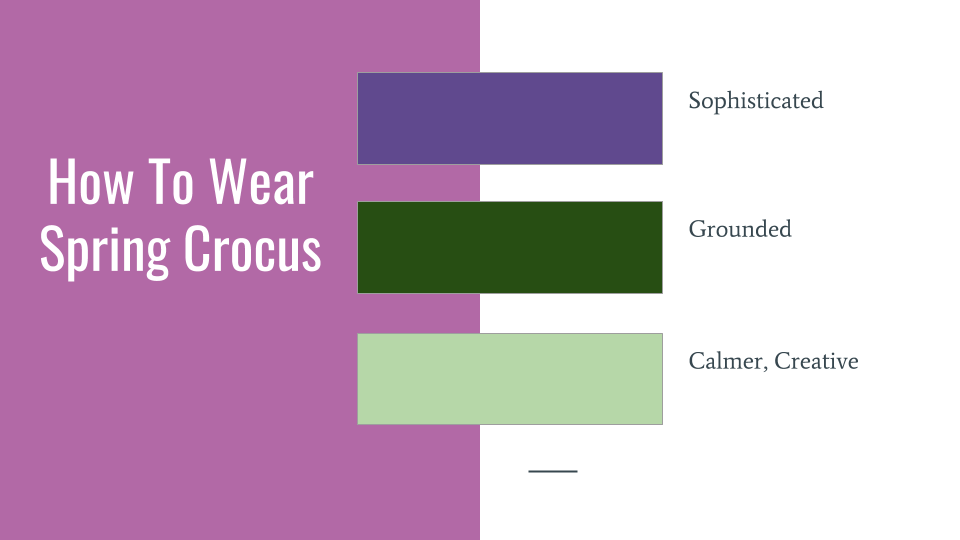 Spring Crocus is one of the trending colors you see everywhere in stores this Spring/Summer 2018. It is a bright lighter purple. It can best be worn by all the Brights. It might be too bright for someone who is Soft. Spring Crocus, worn on it's own, is a fun and flamboyant color. It is flirty and witty. Wearing all Spring Crocus would make you look like someone who is ready to engage and have fun. But you can change that message by combining it with different colors. I've combined Spring Crocus with 3 different colors.
Spring Crocus + Ultra Violet
This color combination is sophisticated. The deep purple gives this look a more formal and regal touch.
Spring Crocus + Deep Green
Adding deep green grounds the mood of the outfit. This is a perfect combo for the summer. It reminds me of spring. This color combination translates as fun and grounded.
Shop the bracelet from this outfit. Visit Jen's Jewelry shop and search for code #B396BGAG
African Plains Statement Bracelet
Spring Crocus + Mint Green
This is a fun and creative feel. The mint green is a perfect spring/summer pairing with the light and bright of Spring Crocus.
Have fun and wear what you love!
Would you like even more outfit ideas for wearing Spring Crocus?
Check out the style guide "How To Wear Spring Crocus" exclusively available in the Color Style Club.