Summer Capsule Wardrobe 2018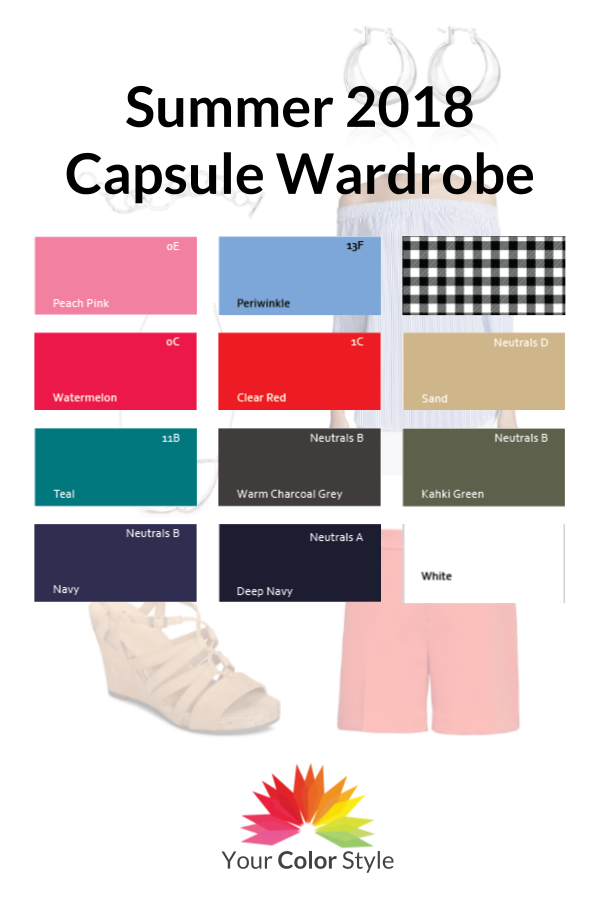 I am super excited to announce the 2018 Summer Capsule Wardrobe for the
Color Style Club
. This capsule wardrobe contains 27 pieces that from MY wardrobe. I have put together a downloadable PDF that includes a visual shopping list with links, the full color palette plus 34 outfit ideas. For many of the outfits, I list alternative ways to change up the outfit... or dress it down... or dress it up.
The capsule wardrobe is designed to be for the warm weather. It is casual with dressy pieces for date night and going out. The colors I chose are from the Bright & Warm color palette but you can easily swap out the colors for colors that flatter you better. You'll see suggestions in the shopping list. Below are 3 outfits created from this capsule wardrobe. Here is a perfect example of how I wear the outfits in this capsule. I changed the jewelry a bit but I wanted to give you a real world example that these outfits are REAL. Not just images combined together. Yes, the links to each of the items in this summer capsule are in the downloadable PDF.
Below is an olive green top paired with bright red shorts. Bright red seems to be everywhere right now in stores. LOVE these. I dressed it up with wedges and some jewelry. Then, I swapped out the shorts for white. Different look. Easy.
I love the dressy elements to this capsule. I can be casual in the hot weather and quickly dress it up when I want. Joe and I visit MANY wineries and I love to dress up a bit when we go out. I hope this capsule gives you LOTS of ideas to change up your wardrobe. Have fun and wear what you love!
Would you like the downloadable PDF of this Summer Capsule Wardrobe with all 27 pieces and 34 outfit ideas?
The 2018 Summer Capsule Wardrobe is exclusively available in the Color Style Club.