Gail's Picks and Passes for December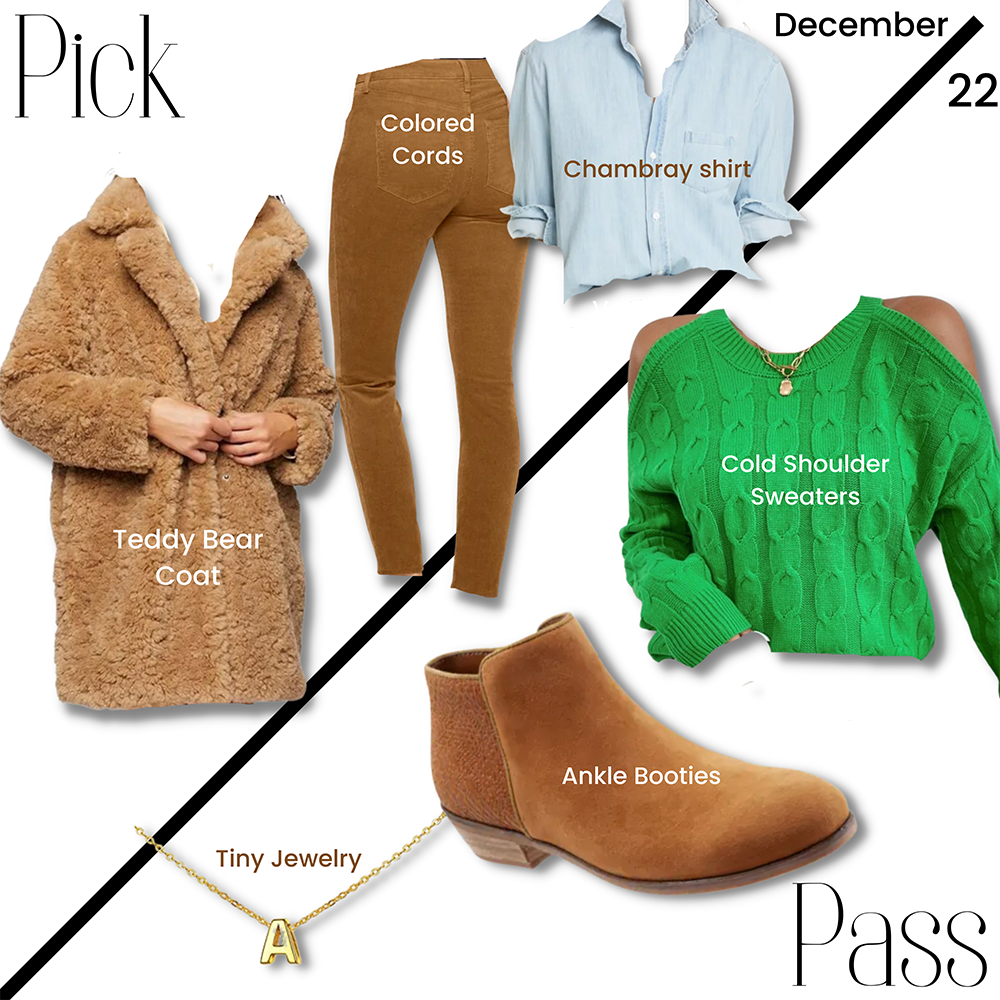 It's time for my PICKS and PASSES of the month for December! Remember, these are only my shopping suggestions. By no means do you need to run and toss these items from your closet, but it is time to consider some other options if you want a more up-to-date look. Please take NO OFFENSE if you love any of the above. If you love a piece and feel great in it, WEAR IT.
If you know your color type and love these inspirational color combos and outfits, join us in Style Masters. Each month, we give you small bite-size lessons on color, shape, style and beauty. You'll be pulling outfits together in new ways and discovering how to use what you already have, how to shop smart and how to flatter your body shape... all in your best colors. Join Style Masters today.
PICKS:
The TEDDY BEAR COAT
I mean, why not? It's cute, cozy, and warm. Available in most colors, the camel is leading as the most popular. They are also appearing in also lengths, so you can choose the one that works best for you. Have a little fun with your outerwear!
COLORED CORDUROYS
These pants are a great way to embrace the dopamine dressing trend. Available in a wide range of colors, both neutrals and brights, you can get a pair in your color style. Choose a straight or boot cut for the most modern look. Pair them with a crisp shirt and a patterned sweater or blazer and boots or flats. You can get a similar look with colored jeans or velvet jeans.
The CHAMBRAY SHIRT
I'm picking this one because it is a great layering piece. Many women don't love a crew neck sweater, but adding a collared shirt underneath changes the neckline and adds interest around the face. The same can go for a crisp white shirt, but chambray is a color that works for most people. Top with a sweater or a jacket and you have a classic look.
We are learning how to style a Chambray Shirt for your body shape and color type in Style Masters.
PASSES:
TINY JEWELRY
Those little initial necklaces and the like are out and big and chunky ones are in. Keep things in proportion by choosing your "chunky" based on your size. Look for wooden pieces, mix-and-match bangles, and fun acrylic rings to have the latest look. And the good news here is that you probably have pieces in your jewelry box that can have a part in this eclectic look.
ANKLE BOOTIES
Can we just admit that these look a little squatty? Booties are still in, but the look is short to high heels and a higher rise. The good news is that the new proportions come in a wide range of colors, heels, and materials, so there is a style for everyone to love. Or you could just go ahead and jump on the tall boot trend. Tip: when looking for a dressier boot, choose one with the material of the boot (leather, suede, etc) covering the heel (or something like metal or stones), as opposed to a stacked heel. Stacked heels can read a little more casual and not quite as sleek if you are going for a monotone look.
COLD SHOULDER SWEATERS (and tops)
The look has been done. And done. And done again. This is a trend that was simply just worn out. When something becomes fire-hot quickly, sadly, it can also burn out quickly. Cold shoulder garments were an opportunity to bring interest up high and show off a part of our body that doesn't usually carry extra weight, but they also tended to highlight slumping shoulders and bad posture. We had our share of bad designs in the style, and I think that also led to its quick demise. Have some cold shoulder pieces in your closet that need to be worn? Throw them on and cover the open areas with a jacket, sweater, or throw.
I can't wait to hear your feedback this month! Go ahead and let me know if you agree or if you want to state your case for loving some of my passes. And as always, feel free to ask questions!
Lastly, this is the time of the year to snag some great deals, so know what you need when you head to the stores or hit some online sites, you might find them at big savings.
Until next month,
Gail Scott
YCS Beauty & Fashion Editor
4 comments