Ways to Wear the March Color Palette of the Month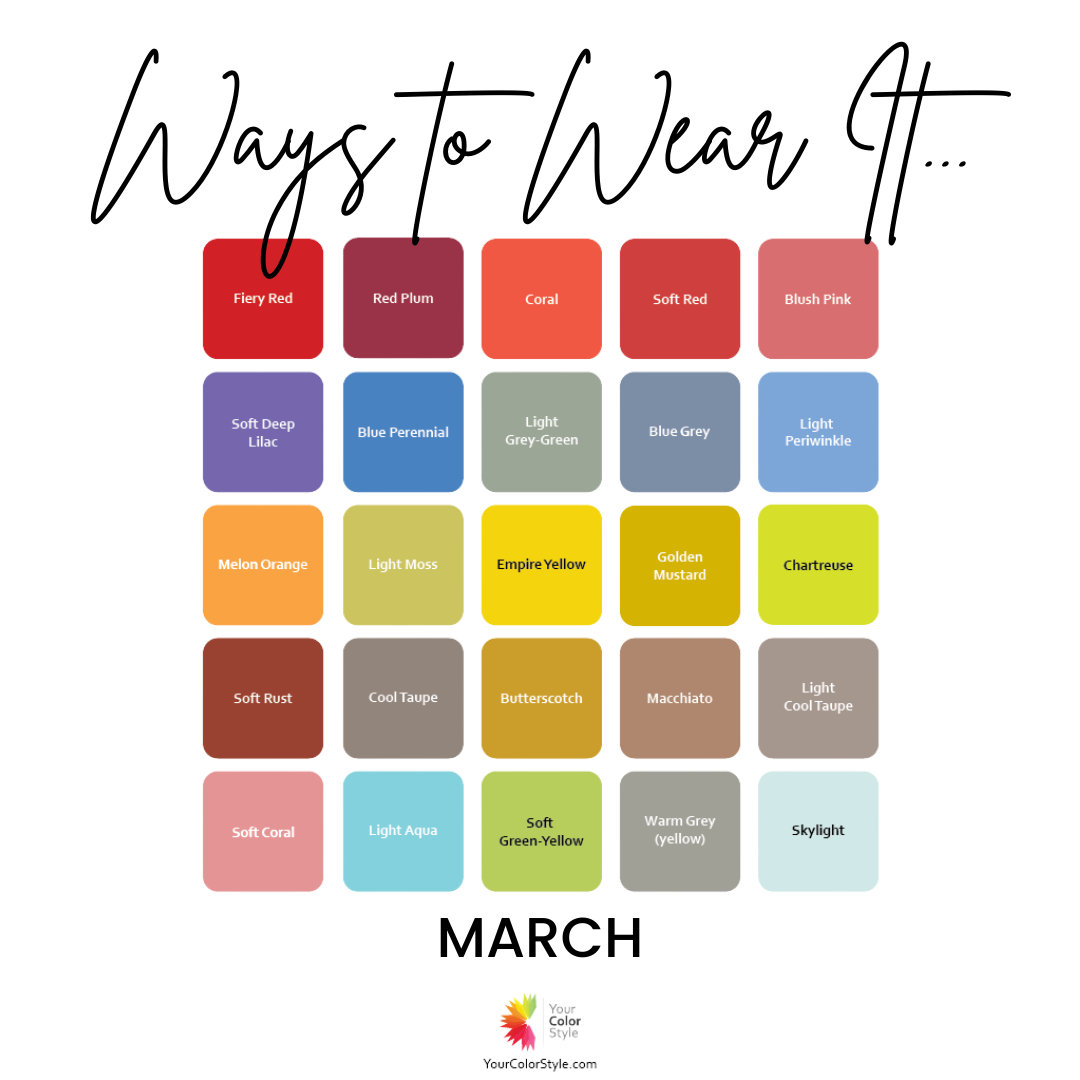 Spring is here and we are ready for new colors, shapes, and styles. This month's palette provides some freshness, while still being grounded as we roll into the new season.
If you know your color type and love these inspirational color combos and outfits, join us in Style Masters. Each month, we give you small bite-size lessons on color, shape, style and beauty. You'll be pulling outfits together in new ways and discovering how to use what you already have, how to shop smart and how to flatter your body shape... all in your best colors. Join Style Masters today.
COLOR BLOCKING is still a hot trend and many of this month's colors lend themselves well to this trend. Try these combinations: Coral + Perennial Blue Light Aqua + Blush Pink Soft Green-Yellow + Melon Orange Soft Rust + Butterscotch Red Plum + Soft Red Empire Yellow + Chartreuse
As the weather heats up, we look for lighter fabrics, and gauzy types fit the bill. Many of this month's colors look beautiful in these lightweight fabrics, as well as the sheer fabrics that we see trending. When wearing lighter weight fabrics, you may want to keep your bag and shoes light and breezy as well.
There are beautiful options here for a monochromatic look. Choose the same color head to toe or different tones of the same shade. Using one of the lighter shades in this way can be a great wedding look. A tone-on-tone look with neutrals feels very laid back and is great for beach travel.
If you struggle with putting colors together, find a print that does it for you! In the Summer time, we have the opportunity to wear prints that might seem like too much in the colder months, and we have garments that lend themselves to these colorful prints. Choose a swimsuit or skort in a print that includes lots of colors, and pair with a solid cover-up or tee.
Happy Dressing!
Gail
1 comment