3 Ways To Wear Ultramarine Green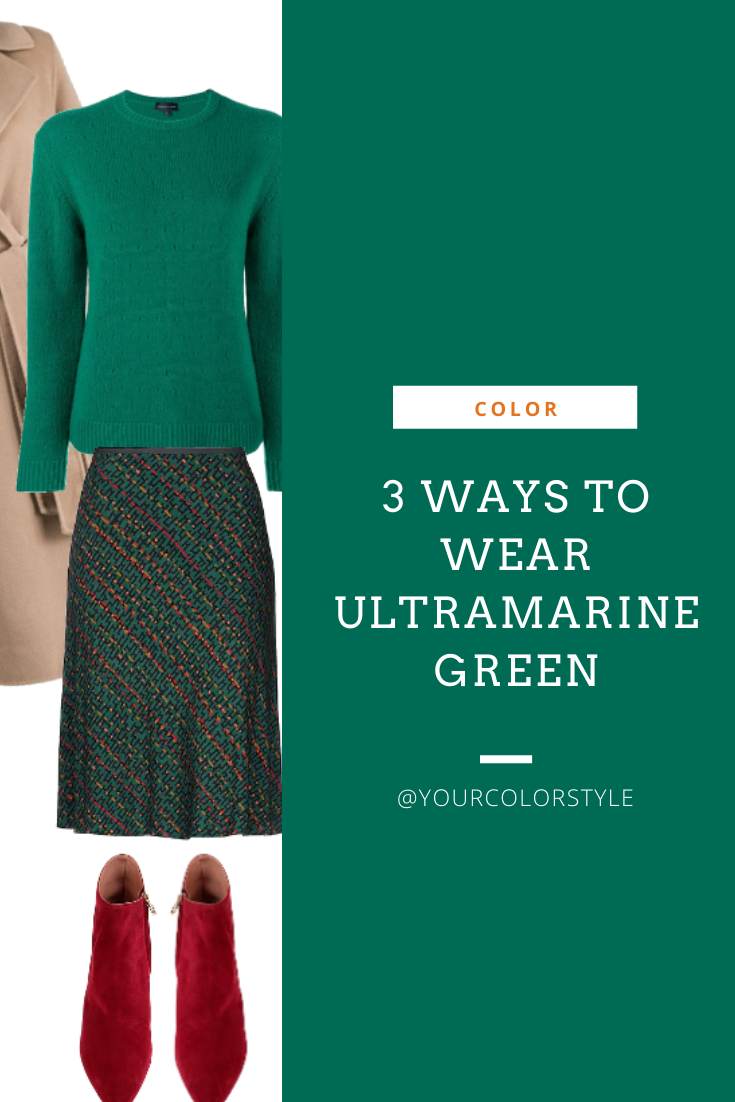 Ultramarine Green is a deep green with a touch of blue. It is a universal color and can be worn whether you have warm or cool undertones. Deep individuals can wear this color well. Want to know if it's a good color for you? Subscribe to the ColorStyle Membership.
It looks like you're a ColorStyle member. Yay you! You can download your guide from here.
If you love this color but it just doesn't flatter you, wear it as a bottom or accessory. Need more ideas and inspiration? Get the complete guide to wearing Ultramarine Green when you subscribe to the ColorStyle Membership.
I've pulled together 3 outfit ideas using the same Ultramarine Green top to inspire you this week.
Outfit Idea #1
Pair ultramarine green with its a split complement. Orange is on the opposite side of the color wheel. This is an unexpected combo but is edgy and fun. Try a red-orange for another interesting look.
Outfit Idea #2
I am loving ultramarine green with grey. Try a cool grey if you have cool undertones and a warm grey if you have warm undertones.
Outfit Idea #3
Pop in some red. Need I say anything else about this combo? I love pops of color!
Try it out and share a pic on our Facebook Page. Look for the post with the 3 Ways To Wear Image and post your pic in the comments. Make sure to LIKE the page (thank you). Let's inspire each other to try something new!
Are you a ColorStyle Member yet?
ColorStyle Members get exclusive access to the Color Type Fashion Facebook group that posts 3 outfits a week for specific color types with shopping links! Plus, there is a new section in the members only area where you can access these outfits' shopping guides with links.
Join the ColorStyle membership and receive the Monthly Color Report. You'll receive DOZENS of color combinations and outfit ideas on how to wear the trending colors of the season. Plus, members get 10% off of all purchases on YourColorStyle.com! Click here to learn more and to subscribe today!
Jen