How To Wear Red with Jen and Gail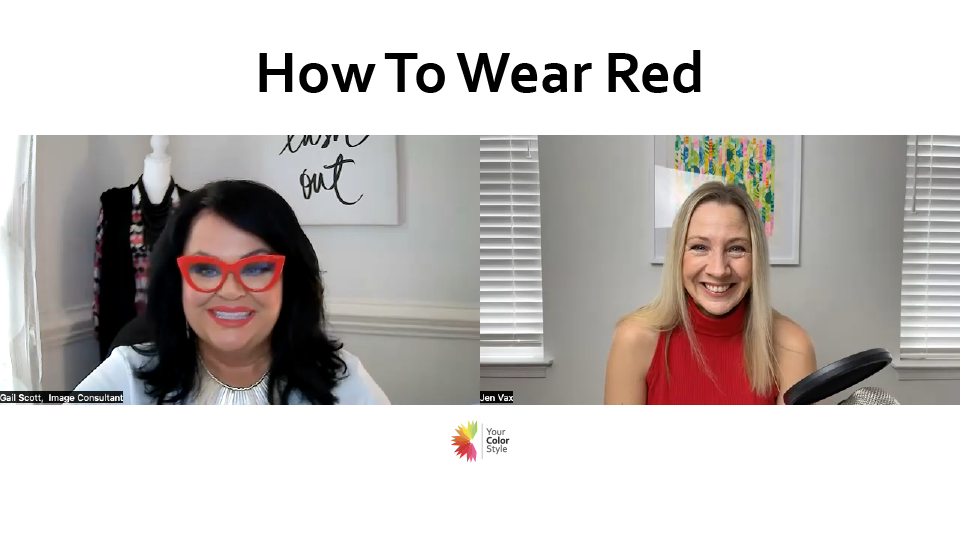 In Fall 2023, there is no hotter color than red. It has stormed the runways. And the coolest thing about it is it's the entire spectrum of red. Any color that is red-ish, true red, red adjacent is included when we mean red, whereas in the past sometimes we just meant candy apple - fire engine red. No, that's not what we're talking about here. We're talking about the spectrum of red, which is good news because sometimes red gets a bad name.
Sign up for a Style Chat info call with Gail Scott
Why are some people nervous about wearing red?
Red is bold. It is a power color.
Not everyone's personality is comfortable in red, so we don't need to put on a red suit, although those are trending, nor does it need to be necessarily very, very bright. It can be a softer version of red... just a little bit darker than the bright red. And I've seen already many versions of this.
We hear, many times from women, "Oh, I can't wear red. "
That's because you haven't found the right red for you to wear red. Everybody can wear red no matter what your coloring is. There is a red color for you.
Take the color analysis quiz to discover your color palette which has your best reds to wear.
When we think about colors, especially in your color style, we talk about chroma. Chroma is how saturated or muted a color is. Chroma plays a key part of finding your best red. When we add a little bit of white, we may get a light red or a deep coral color. We can add a little yellow and make it more fiery. We can add some black and get in those rust tone, those terracottas. These are colors that are beautiful for warm undertones. We can add a little blue and take it more towards a magenta like the color of the year or a deep, deep pink or even into the berries which are hot, hot, hot right now.

If you're nervous about wearing read, find a place to start. It could be a solid red or it could just be red in part of a pattern or as an accent. If you're REALLY nervous about wearing read, add some earrings and a necklace in your best shades of red, whether it be a warmer red or cooler red. Wear a red pair of shoes so it's away from your face.
If you're feeling more bold, choose a monochromatic look. People who choose monochromatic looks are usually the people with the most bold personalities. Even when the monochromatic look is a neutral, monochromatic looks are statement looks. 
Where you place red on your body is important.
So if you don't like red around your face and you don't want to do heavy lifting with your makeup, choose a shoe, a bag, a nice pair of wool red pants or something like that that's a little bit away from your face and wear a color that you're more comfortable with around your face.
What Colors To Wear Red With
Combine a pink, a red and a deep berry all togethe. This is not a combination we see a lot, but these deep reddish tones work beautifully for cool undertones.
Once upon a time, the guidance was to wear red with white or black. Today, you can wear warm neutrals with red, especially warm tomato reds. You may even try wearing some orange or yellow with a warm red.
See the outfit ideas for wearing red here.
These color combos are very vogue right now, on trend and very stylish. It may feel challenging to pull off these analogous color combos, but if you take out your color fan from Your Color Style and you go and look in those family groups, you'll see quickly two or three colors that you can throw together out of your closet. It might be a deep purple with a magenta and then a red or a fucshia top.
Now if you have a softer spirit and softer coloring, you may want to wear lighter reds. This can be influenced by not only the color but the texture of the fabric. So if you choose something very sheer that's just going to give a wash of red, then that's going to look very different than if you pick say red leather or red sequence. Very, very bold. So pay attention to the fabrics. Also very nubby fuzzy fabrics can tend to soften a color a little bit and how it lays on the skin.

Gail shares four different color combinations to wear red for each general color type. See the outfit ideas for wearing red here.
Tips For Wearing Red
Balance your red top with your makeup. If you choose to not do anything with your hair or face, red can overwhelm you very quickly, even if it's a great color for you. Red needs a balance up onto the face. And so as opposed to your regular everyday makeup, you want to bump up that lip color a little bit and bump up those cheeks a little bit. Keep the eyes neutral, like browns and creams, so that the star of the show becomes the lips and cheeks. Make sure you bump up that cheek color when you bump up the lip color and just keep it in the same color family. If it's a warm red on your lips, do warm on your cheeks. If it's cool on your lips, do cool on your cheeks. 

If you need help picking out your best reds and styling your clothes, schedule a Style Chat info call with Gail Scott
Take the color analysis quiz to discover your color palette which has your best reds to wear.
2 comments