4 Ways To Wear Red This Fall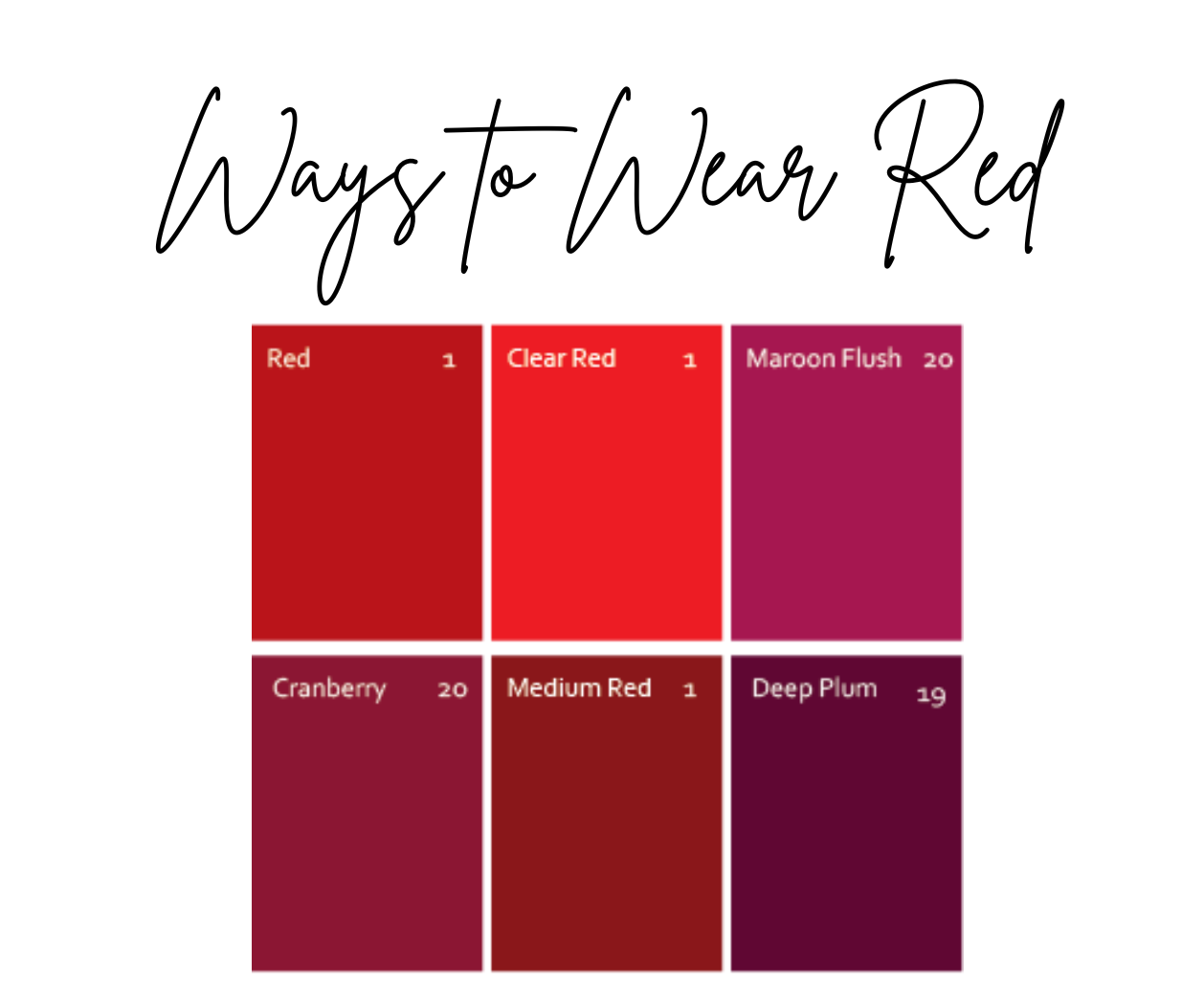 RED is the hottest color for Fall 2023, and the great news is that shades of red fit every color type. Carefully consider temperature, undertone, and depth to find the right one. Also, consider how you use red in a look, do you want it to take the lead or be a supporting player? These choices depend on your color type as well as your personality.
Be sure to watch the video of Jen and Gail talking more about wearing red this Fall 2023 season.
A Red Outfit Idea for Warm Undertones
If you are soft and warm in coloring, a true red with a touch of brown will be perfect; think of a warm cranberry or light brick color. Camel and navy are great choices for pulling together a look where the red is subtle but present. This approach guarantees that the red doesn't overwhelm your softer coloring or compete with warmth in your hair or skin. For this look, we chose a patterned top with a touch of warm red, then used the same shade for shoes and earrings to bring the look together. Notice that this is not a bold "in your face red", but a classic understated injection of the color. A coral or sheer true red will be great on your lips to complete the look.
How to Wear Red for Soft and Cool tones
For soft and cool coloring, leaning into the berries and plums is a great way to wear red this season. The choices in red are all over the spectrum, so don't hesitate to choose a cool shade in the red family. Choose a shade that has been slightly softened with white to bring the brightness down a bit. These tones look great with denim. Again, this is a way to wear red without feeling overwhelmed by it. The textured jewelry keeps the feeling soft. For your face, choose deeper pinks and berries to blend with the clothing.
Outfit Idea with Red for Cool Undertones
Bright and cool gals can have a party this season! There are so many red tones that work for you, and reds look great with your black and gray neutrals. Mixing various shades of cool reds, plums, berries, and pinks creates a dramatic and flattering look for you. Choose accessories in a neutral or a print that brings in the various shades that you have chosen to wear. Berries and plum tones in your makeup will bring harmony to your entire look. Coral, rust, and brick shades of red are the go-to options for you bright and warm gals. If you are lighter in coloring, choose corals or light reds.
How To Wear Red for Warm Undertones
For those with warm and deeper coloring, embrace the beauty of the deepest warm reds. The key here is to go bold! Choose a fun print to wear with a saturated pair of slacks or a skirt, then mirror that red shade in your accessories to make it the star of the show. Balance with a saturated warm red lip color.
If you need help choosing your best reds, check our the digital color palettes and color fans from Your Color Style. Or take the color analysis quiz to discover your most flattering color palette.
How To Wear Red with Jen and Gail
Sign up for a Style Chat info call with Gail Scott