Great With Gray: Discover Your Most Flattering Colors To Wear With Your Gray Hair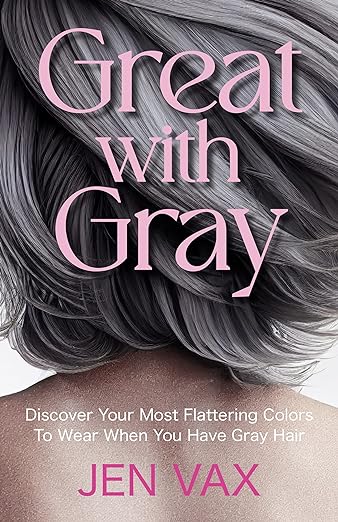 Discover your most flattering colors with your gray hair.
Do you feel like colors that used to look great on you now feel "off"?
Are you growing out your gray hair and are worried that your colors will change?
Maybe you're afraid that your gray hair will age you?

"I have warm undertones. How will my colors look on me when I have cool gray hair and warm skin?"
If you have warm undertones, having cool gray hair can be unsettling. Your hair may feel wrong but I assure you it is perfect. This is your most authentic state. Your natural hair color is never wrong. It may feel different from your original hair color but is absolutely not wrong.

This book will help you understand the types of colors that will be in harmony with your overall tones and gray hair. Your gray hair is beautiful and finding colors that work with with your gray hair should not be a struggle.

You will discover a simple step-by-step process to discovering your color type within Your Color Style. Your Color Style is not seasonal color analysis. It is based on color theory and is unique. It is perfect for women with gray hair.

This book is for:
Women that are growing out their gray hair
Women with gray hair, silver or white hair, gray blend and salt and pepper hair
Women of all skin color - from ivory to black
Women with olive skin tone
Discover the colors that will flatter you best and the colors you may want to avoid.

Lots of photos, illustrations and mini-color palettes to help you discover the colors that will make you shine.duct, share announcements, or welcome customers to your store.
To download your e-book,
join Style Masters.
Are you ready to show up everyday with confidence and authenticity? Learn how to easily pull together complete outfits that flatter your shape, are in your BEST colors and express who you are.