Olive Skin Tone Explained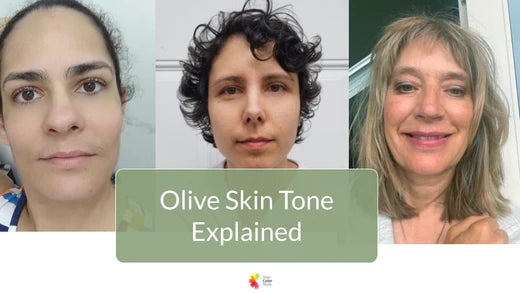 Olive skin tone is a unique and gorgeous complexion that many people envy. In this blog post, we'll dive into what olive skin tone is, how to determine if you have it, and some tips on how to embrace and enhance your natural beauty. So, let's get started!
What exactly is olive skin tone?
Olive skin tone is a complexion that has a greenish or yellowish undertone. It is commonly found in people with Mediterranean, Middle Eastern, and South Asian backgrounds. Olive skin tones can range from light to medium to dark.
The Color Theory Behind Olive Skin Tone, Warm Undertones and Cool Undertones
This video explains how our skin tone interacts with our undertones, creating an olive skin tone. This is an explanation I gave my color consultants in my certification program. I've edited down to the info I believe you will find most valuable. Understanding the color theory behind undertones and skin tone can truly help you understand if you actually have olive skin tone. Plus, I explain the concept of neutral undertones a little bit.
What Colors Look Good On Olive Skin Tone and What Colors To Avoid
People with olive skin tone tend to have a greenish cast to their skin and sometimes a dominant yellow overtone. This can make finding flattering colors and color types confusing because some colors just don't seem feel right. This video explains what colors you may want to avoid wearing with your olive complexion and what colors you may want to try wearing.
Your Color Palette In Your Color Style
After all of this explanation, you may be wondering what your actual color type is. In the case with olive skin, I recommend that you look at the cool color types. Specifically the bright and cool color types. As I've explained in the video above, even if you believe you have warm undertones, the typical warm colors may not feel right on you. When you remove those from your color palette, you are left with most the colors in the cool color palettes. If you have pale olive skin, then I recommend the Bright Cool and Light color palette. If you have very dark hair and eyes, I recommend the Bright Cool and Deep color palette.
Color Analysis Case Study: Pale Olive Skin Tone
I did an online color analysis of a woman with live olive skin tone and describes her skin as being dominantly yellow. She is a Style Masters member and has given me permission to use her photo for this video because this type of skin can be very confusing when trying to figure out your color palette. 
Color Analysis Case Study: Olive Complexion With Dark Brown Hair and Dark Eyes
She has olive skin tone, dark brown eyes and dark brown hair.
Watch the video to learn her color type.
Neutral Undertones Explained
If you are not obviously warm or cool, it may feel that you are neutral. It's common to hear that "I don't seem to lean warm or cool, so I must be neutral!" A misconception about appearing neutral is that you can wear all the colors in the color wheel. This is not the case. Even if you appear neutral, you still have warm or cool undertones, even if it's not obvious.
Jen explains how she sees neutral undertones and why you still may not be completely neutral.
Embracing your olive skin tone
Now that you know you have olive skin tone, it's time to embrace and enhance your natural beauty. Here are some tips to help you do just that:
Choose the right foundation: Finding the perfect foundation can be a challenge, but for olive skin tones, it's all about finding a shade that matches your undertone. Look for foundations with yellow or green undertones to achieve a seamless and natural look.
Play with colors: Olive skin tones can pull off a wide range of colors, so don't be afraid to experiment! Whether it's a bold red lip or a vibrant eyeshadow, embrace your unique complexion and have fun with different shades.
Protect your skin: Just because you have olive skin tone doesn't mean you're immune to the sun's harmful rays. Make sure to wear sunscreen with a high SPF to protect your skin from damage and premature aging.
Wear colors that balance your dominant green or yellow tones, like true red and pinks.
Remember, your olive skin tone is something to be proud of. Embrace it, love it, and let your natural beauty shine through!